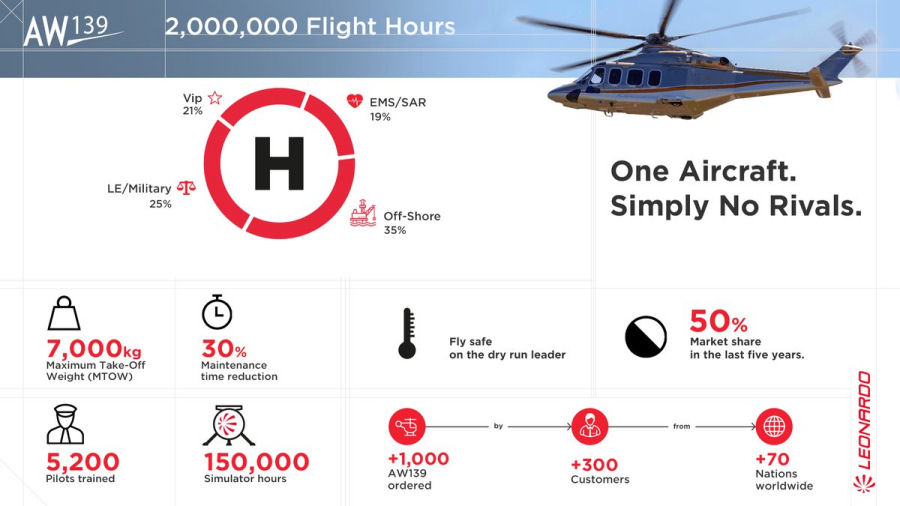 Leonardo, February 27, 2018 - An extraordinary milestone has been achieved by the AW139 helicopter global fleet: over two million flight hours accumulated, with more than 1,000 units already sold to more than 300 customers in 80 countries worldwide.

The AW139 helicopter, our bestseller, thus confirms as demonstrated on different missions its winning characteristics: high technology, reliability and safety, as well as versatility and operational effectiveness.

This success was achieved thanks to the excellent quality of the project that guarantees its performance, the support and maintenance capabilities offered to operators, which allow the AW139 to always have a high level of availability, and the excellent work done by our customers. In fact, the fleet leader has accumulated over 12,000 flight hours. The AW139, the most successful helicopter of the last 15 years, thus confirms its status as a market benchmark and eleverages the solid and lasting collaboration between Leonardo and its customers.

The helicopter has been designed with multifunctional capability and with maximum operational flexibility; it can carry out various missions, including VIP/Executive Transport, transport to offshore platforms and wind farms, air ambulance, search and rescue and public safety tasks, including firefighting.

In each of these roles, it is possible to take full advantage of the ample onboard space, the modular design that allows for rapid operational conversion, high cruising speed and advanced avionics, its exceptional capacity even when flying with only one engine working and its high standards of impact resistance. With its Pratt & Witney engines, and with the Honeywell Primus Epic integrated avionics systems, the AW139 can carry up to 15 passengers or, in the air ambulance version, up to four stretchers and four medical attendants. It is capable of flying at the highest speeds (165 knots/306 km/h) and flying with only one engine up to an altitude of 3,500m, operating in winds of up to 83km/h.

With 150,000 hours of flight simulation performed by 5,200 trained pilots, the AW139 has been designed and developed according to the "continuous improvement" philosophy. Indeed, the developments that have taken place over the years are significant: an increase in the maximum take-off weight (currently at 7,000 kg), adaptation to the most current offshore mission procedures, installation of new avionics systems for navigation and the adoption of systems that minimise the pilot's workload, making flights more secure and reliable.

With decades of experience in customised interior design and thanks to a dedicated team, Leonardo works with its customers to ensure the highest quality standards in its cabin fittings and materials. In fact, there are countless configuration options available for seats and equipment, including communication and entertainment systems, work tools, fridge and luggage compartment.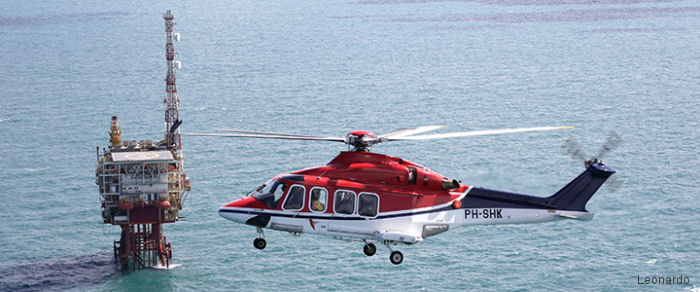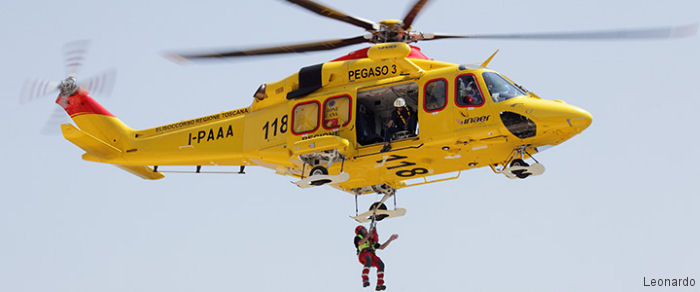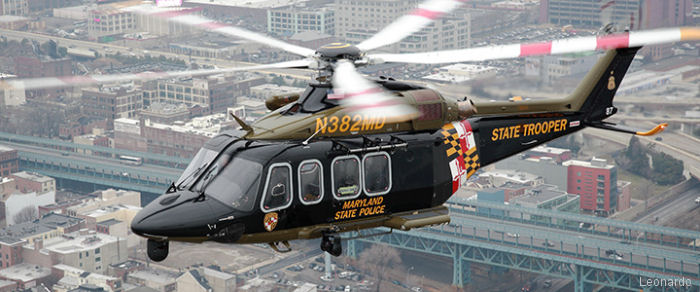 AgustaWestland AW139