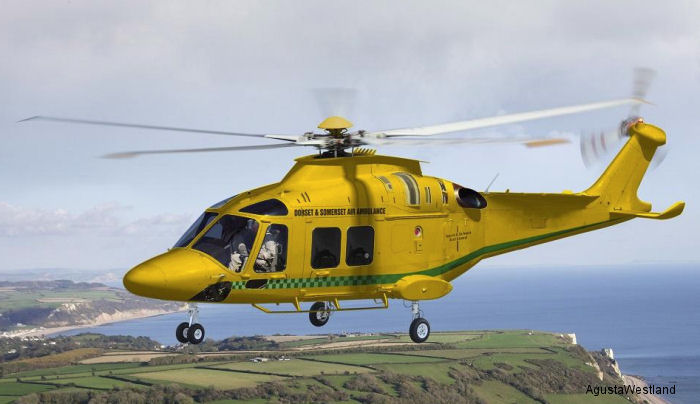 AgustaWestland, July 17, 2014 - AgustaWestland is pleased to announce that the Dorset and Somerset Air Ambulance has selected an AW169 twin-engine light intermediate helicopter to perform emergency medical service missions.

The aircraft will start operations from its base at Henstridge on the Dorset / Somerset border in South West England in 2016 and will be able to reach any point in the two counties faster than ever due to its maximum cruise speed and quickly transport patients to hospitals and major trauma centres in the South West.

The AW169 was selected following an extensive evaluation process by the Charity and its clinical partners thanks to its outstanding characteristics and superior capabilities and safety standards, which will ensure unprecedented levels of mission effectiveness to meet customer's requirements for enhanced life-saving duties.

This contract continues the success already achieved by the AW169 in the UK helicopter market and marks the first EMS tender win in the UK for this new generation helicopter.

Bill Sivewright, Dorset and Somerset Air Ambulance CEO, said: "Dorset and Somerset Air Ambulance's vision for the future assume one of clinical excellence. The capability and flexibility offered by the AW169 made it a clear winner in our selection process. We are looking forward to the point in time when we can start operating this fantastic helicopter and offering our patients an even more capable service that we have been proud to do in the last 14 years."

The Dorset and Somerset Air Ambulance's AW169 helicopter will feature a full air medical interior to provide advanced patient care and will also be equipped with the latest avionic standard in order to allow an enhancement of the operational safety based on a significant reduction of the pilot workload, together with the possibility to operate under NVG rules if required.

Perfectly suited to both primary and secondary air ambulance missions, the AW169 can comfortably accommodate one or two stretchers, either longitudinally or transversally, which is especially important for operations where in-flight stretcher recovery is required. The large unobstructed cabin can also accommodate wheeled stretchers and can be configured with a full suite of advanced life support equipment.

The AW169's avionic suite introduces state-of-the-art technology including a full digital NVG compatible cockpit with three 8" x 10" large area displays (AMLCD) and touch screen technology with enhanced graphics capability for maximum situational awareness. A 4-axis digital automatic flight control system (DAFCS) with dual Flight Management System (FMS) minimises crew workload allowing single/dual pilot VFR/IFR operations. The avionics suite also complies with satellite-based navigation, communication and surveillance requirements and has the capability to perform satellite-based IFR LPV (localizer performance with vertical guidance) approaches to maximize round-the-clock utilisation of the helicopter. Safety enhancing avionics such as Terrain Awareness Warning Systems, airborne collision avoidance systems can be added to the standard avionic configuration.

The AW169 helicopter is part of AgustaWestland's family of new generation helicopters that also includes the AW139 and AW189. These helicopters all possess the same high-performance flight characteristics and safety features whilst sharing the same common cockpit concept and design philosophy. This approach facilitates synergies for operators of these models in areas such as training, maintenance and support.

Over 120 AW169 helicopters have now been ordered by customers around the world for a wide range of applications including air ambulance, law enforcement, corporate & VIP transport, offshore transport and utility roles. Dorset & Somerset Air Ambulance is a registered charity, established to provide relief from sickness and injury for the people of Dorset and Somerset, by the provision of an air ambulance, entirely relying on the generosity of the public for support.

Established in March 2000 the Dorset & Somerset Air Ambulance has performed more than 10,000 missions.
AW169 in

UK Air Ambulances
DSAA

Dorset and Somerset Air Ambulance
UK Air Ambulances