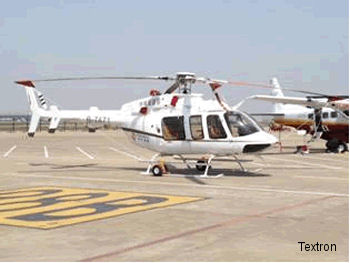 Bell Helicopter, July 02, 2014 - Fort Worth, TX – Bell Helicopter, a Textron Inc. company, announced it has signed a purchase agreement with Henan Yongxiang General Aviation LTD for two new Bell 407GXs.

The aircraft will be used to support multiple mission needs including, flight training, emergency rescue, VIP transport, parapublic resources, aerial survey and photography, agriculture spray as well as other aviation services.

"We are excited to welcome Henan Yongxiang General Aviation LTD into the growing family of Bell 407GX operators in China," said Chris Jaran, managing director for Bell Helicopter in China. "This aircraft is able to take on a variety of missions for a range of operators and offers pilots increased situational awareness thanks to a high visibility, digital cockpit that reduces pilot workload. We have seen a great response throughout the region as we show customers how these capabilities can help them fulfill their missions safely and efficiently."

Henan Yongxiang General Aviation LTD provides teams of pilots and mechanics capable of providing highly efficient aviation services. Based in the city of Zhengzhou in the Henan province, Henan Yongxiang aims to expand its fleet and market presence.

"The Bell 407GX is a great addition to our fleet," said Chen Baiming, president of Yongxiang General Aviation. "We are thrilled to purchase a reliable aircraft that will allow us to support a range of missions for our customers."

The Bell 407GX delivers power and speed with a smooth, quiet ride and a spacious cabin that accommodates six passengers. The aircraft also features the fully-integrated Garmin G1000H flight deck, providing critical flight information at a glance for greater situational awareness and increased safety. The Bell 407GX flight deck's high resolution LCD screens host primary flight and multi-function display information, including Helicopter Terrain Avoidance Warning System, Helicopter Synthetic Vision Technology™, Traffic Information Systems and more. The 407GX also features a tail rotor camera, allowing the pilot a clear view of the tail during take-offs and landings.

About Bell Helicopter: Bell Helicopter, a wholly owned subsidiary of Textron Inc., is an industry-leading producer of commercial and military, manned and unmanned vertical-lift aircraft and the pioneer of the revolutionary tiltrotor aircraft. Globally recognized for world-class customer service, innovation and superior quality, Bell's global workforce serves customers flying Bell aircraft in more than 120 countries.
Bell 407GX