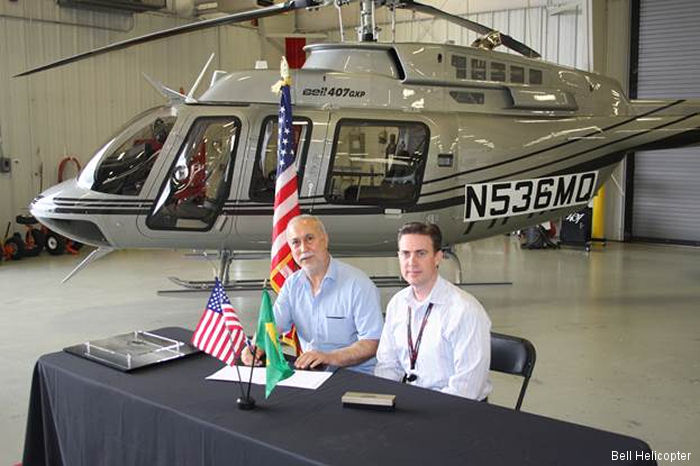 Bell Helicopter, September 09, 2015 - Fort Worth – Bell Helicopter, a Textron Inc. company, announced today the delivery of the first Bell 407GXP to Brazil.

The aircraft is outfitted for corporate transport, which continues to be a popular market segment for the Bell 407GXP throughout Latin America.

The aircraft was accepted at Bell Helicopter's facility in Piney Flats, Tenn., by customer Masoud Jafari with Medalhao Persa based in Curitiba, Parana, Brazil and delivered to its final destination on September 3, 2015.

"We are thrilled to be the first in Brazil to receive the new Bell 407GXP," said Masoud Jafari, owner and CEO of Medalhao Persa. "The luxurious interior, combined with the smooth, quiet performance of the aircraft is exactly what I was looking for to quickly and comfortably conduct business throughout the region."

The Bell 407GXP is another example of Bell Helicopter's continued investment in its current products to enhance customer value and increase mission capability. The Bell 407GXP is an upgrade to Bell Helicopter's best-selling platform, the Bell 407, with added value through industry leading performance, payload capability and operating economics.

"Latin America presents a highly diversified climate for our aircraft, and the Bell 407GXP is consistently praised for its multi-mission capability," said Jay Ortiz, Bell Helicopter's vice president of Latin American sales. "The Bell 407 has proven to be a very popular aircraft with over 1,200 flying worldwide today, with particularly strong demand for the upgraded Bell 407GXP from our Latin American customer base."

The Bell 407GXP is derived from the Bell 407GX platform with updates that provide an additional 50 lbs (22.5 kg) of payload capability, coupled with a new M250 Rolls-Royce engine that improves performance and fuel efficiency delivering class leading hot and high performance. The Bell 407GXP is also equipped with new avionics features such as hover performance calculator improvement, as well as transmission TBO extension of +500 hours that will lower maintenance costs.

About Bell Helicopter: Bell Helicopter, a wholly owned subsidiary of Textron Inc., is an industry-leading producer of commercial and military, manned and unmanned vertical-lift aircraft and the pioneer of the revolutionary tiltrotor aircraft. Globally recognized for world-class customer service, innovation and superior quality, Bell's global workforce serves customers flying Bell aircraft in more than 120 countries.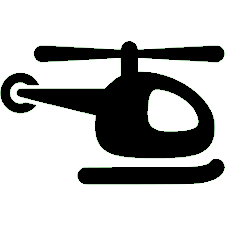 Aircraft mentioned in this article :
407GXP PR-RSJ ( )


Bell 407GXP


Brazil