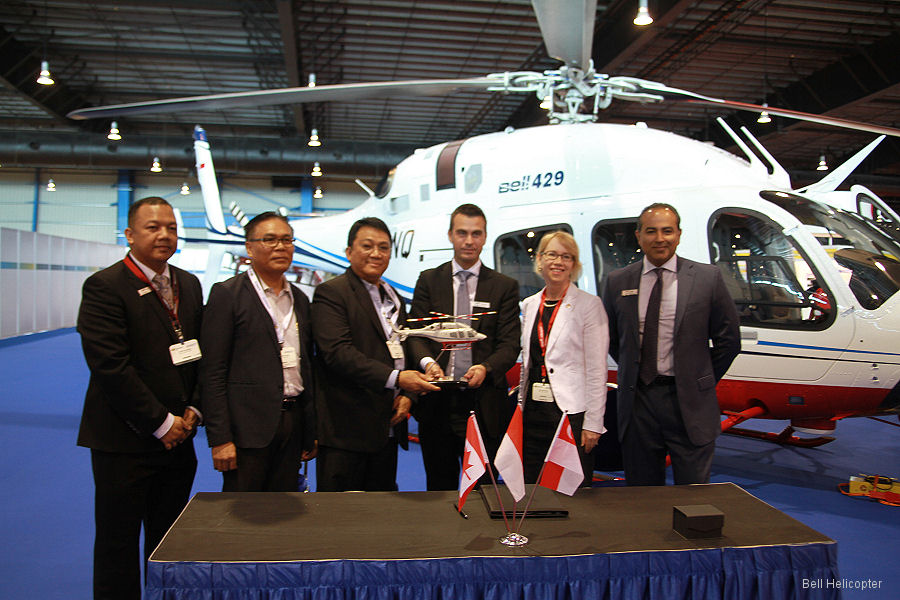 Bell Helicopter, April 19, 2017 - Singapore – Bell Helicopter, a Textron Inc. company, announced today the delivery of two Bell 429s to PT. Carpediem Mandiri for supply to the Flight Calibration Department of the Indonesian Ministry of Transportation.

The delivery marks the first two Bell 429s to be used for flight calibration operations throughout Indonesia, performing instrument calibration for Helicopter Ground Instrument Landing and Departing Systems at airports, heliports and helipads.

"It is an honor for us to celebrate alongside PT Carpediem Mandiri and the Indonesian Flight Calibration Department the delivery of two Bell 429s with a special ceremony at Rotorcraft Asia," said Sameer A. Rehman, Bell Helicopter's managing director of Asia Pacific. "Today's deliveries mark the first time a Bell 429 has been configured for flight calibration missions, and it brings us great pride to support the Indonesian Ministry of Transportation in this important effort. This is another testament to the ability of the Bell 429s to meet mission requirements across a variety of segments further bolstered by our service and support which are second to none."

Established in 1992, PT. Carpediem Mandiri is an Indonesian private general trading company focused on vehicle rental services, but with support from local and international manufacturers, PT. Carpediem Mandiri seeks to further expand its business into the technology information, aviation, marine and meteorological sector.

"We are delighted to introduce our flight inspection system AD-HELIFIS on the Bell 429, as this will be the second helicopter worldwide and the first Bell 429 operating with this technology," said Thorsten Heinke, senior program manager, Aerodata AG.

Designed with the future in mind, the Bell 429 meets or exceeds today's airworthiness requirements to enhance occupant safety, with the adaptability to remain at the forefront as mission requirements evolve. Innovation is at the heart of the Bell 429 light twin helicopter. The use of metallic and composite parts in its construction creates the perfect balance between rigidity and flexibility, safety and durability. An advanced avionics and systems monitoring suite ensures outstanding maintainability and aircraft readiness.

About Bell Helicopter: Bell Helicopter, a wholly owned subsidiary of Textron Inc. (NYSE: TXT), is an industry-leading producer of commercial and military, manned and unmanned vertical-lift aircraft and the pioneer of the revolutionary tiltrotor aircraft. Globally recognized for world-class customer service, innovation and superior quality, Bell's global workforce serves customers flying Bell aircraft in more than 120 countries.
429 in

Carpediem Mandiri