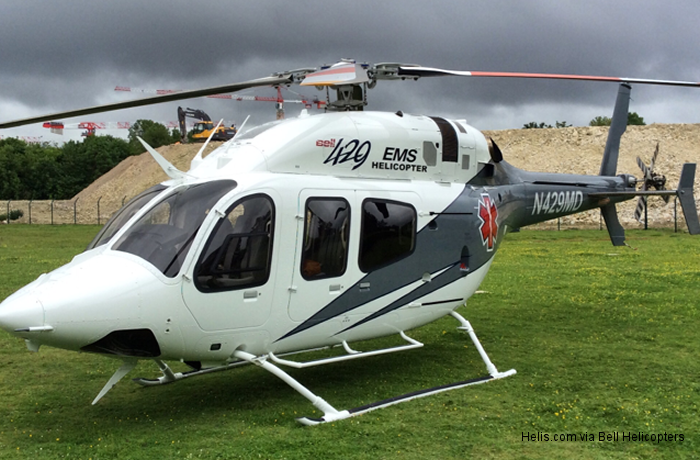 Bell Helicopter, June 03, 2014 - FORT WORTH – Bell Helicopter, a Textron Inc. company announces progress of its European demo tour with a Bell 429 aircraft configured for Helicopter Emergency Medical Services (HEMS).

The aircraft arrived earlier this month and has visited many charity and EMS organizations in the United Kingdom.

"The feedback we received on the UK leg of the Bell 429 tour was absolutely fantastic. The organizations were impressed by the size of the cabin, as well as the quality and flexibility of the interior," said Patrick Moulay, Bell Helicopter's managing director of Europe. "The Bell 429 raises the standard in the industry in safety and comfort allowing operators to provide an increased level of care for the patients on board."

The Bell 429 is set to continue its demo tour in the coming weeks with stops in Italy, France, Belgium and Spain as well as other destinations along the way. Finally, the aircraft will be displayed at the Farnborough International Airshow to further showcase the Bell 429's HEMS capabilities to our international customers.

"We are absolutely delighted to see the growing success of the Bell 429 HEMS in Europe," Moulay added. "Our operators in Turkey, Russia, Scandinavia, Slovakia, Switzerland and the UK are now recognizing the benefits the Bell 429 can bring to their missions and the level of patient care provided during helicopter transfer."

The Bell 429 is the only light twin-engine helicopter on the market with true two-stretcher capability, featuring enough cabin space for two medical attendants and two crew members. It features a spacious cabin and extra large 60 inch side doors, as well as Instrument Flight Rules (IFR) capability certified for single or dual pilot operations. The Bell 429 also offers exceptional flight performance with a fully integrated glass cockpit, advanced drive system and best-in-class WAAS navigation and IFR capability. Additional safety features include a collective mounted throttle, damage tolerant hub and rotor system, and energy attenuating seats. It is the first helicopter certified through the MSG-3 process, resulting in reduced maintenance costs for operators.

About Bell Helicopter: Bell Helicopter, a wholly owned subsidiary of Textron Inc., is an industry-leading producer of commercial and military, manned and unmanned vertical-lift aircraft and the pioneer of the revolutionary tiltrotor aircraft. Globally recognized for world-class customer service, innovation and superior quality, Bell's global workforce serves customers flying Bell aircraft in more than 120 countries.

Bell Helicopter Europe