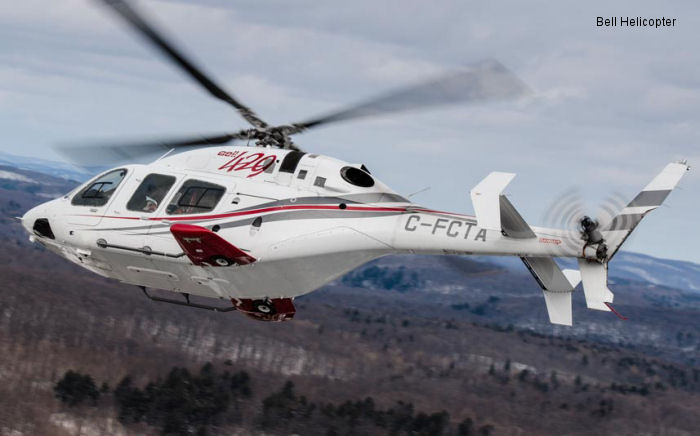 Bell Helicopter, January 27, 2014 - FORT WORTH, TEXAS - Today, Bell Helicopter, a Textron Inc. company, announced the initial certification of the Bell 429WLG by Transport Canada and the National Civil Aviation Agency of Brazil.

Unveiled in October 2013 at the National Business Aviation Association (NBAA) conference, the helicopter combines the advanced capabilities of the Bell 429 with the added operational flexibility of retractable wheeled landing gear.

"We have worked closely with both Transport Canada and ANAC throughout the development of the Bell 429 program and are pleased they have certified the wheeled landing gear option after careful testing, review and evaluation," said Danny Maldonado, Executive Vice President, Commercial Sales and Marketing. "With the addition of retractable landing gear, our customers have even greater flexibility to land, taxi and reposition the Bell 429. These benefits mean that both flight crews and passengers can save time and effort getting where they need to go."

With a range of 412 nautical miles and speed of 153 knots, the 429WLG delivers exceptional performance with state-of-the-art single and dual pilot instrument flight rule capabilities. The additional flexibility of the retractable wheeled landing gear makes the Bell 429WLG ideal for both repositioning in limited spaces and situations that require ground taxi, such as positioning closer to fixed-base operators. A fully-integrated glass cockpit with two or three multi-function displays, dual digital autopilot and an integrated electronic data recorder help increase situation awareness and safety margins. The exceptionally spacious interior cabin offers seating for up to seven passengers plus a pilot and can be reconfigured for a number of missions. Other safety features include a collective mounted throttle, damage tolerant hub and rotor system, and energy attenuating seats.

Transport Canada and ANAC have also previously approved the Bell 429 to operate at an increased gross weight of 7,500 lbs (versus the 429's original certification of 7,000 lbs.) To date, the Bell 429 increased gross weight has been approved by Argentina, Australia, Brazil, Canada, Chile, China, Ecuador, India, Indonesia, Israel, Malaysia, Mexico, New Zealand, Nigeria, Thailand, Venezuela and Vietnam. Bell Helicopter is pursuing additional validation with the Federal Aviation Administration and the European Aviation Safety Agency.

About Bell Helicopter: Bell Helicopter, a wholly owned subsidiary of Textron Inc., is an industry-leading producer of commercial and military, manned and unmanned vertical-lift aircraft and the pioneer of the revolutionary tiltrotor aircraft. Globally recognized for world-class customer service, innovation and superior quality, Bell's global workforce serves customers flying Bell aircraft in more than 120 countries.

About Textron Inc.: Textron Inc. is a multi-industry company that leverages its global network of aircraft, defense, industrial and finance businesses to provide customers with innovative solutions and services. Textron is known around the world for its powerful brands such as Bell Helicopter, Cessna Aircraft Company, Jacobsen, Kautex, Lycoming, E-Z-GO, Greenlee, and Textron Systems.
Bell 429WLG
429 in

Bell Helicopter Canada

Brazil