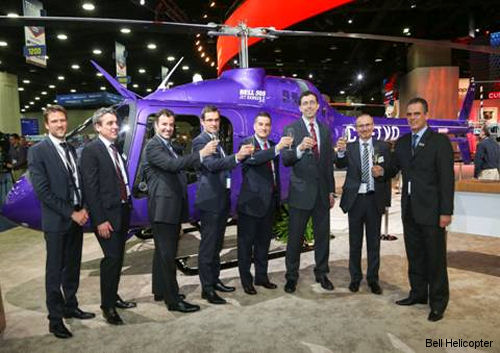 Bell Helicopter, March 01, 2016 - Louisville, Kentucky – Bell Helicopter a Textron Inc. company, announced today a collaboration with Turbomeca to provide a complete service option for the Bell 505 protecting the entire aircraft - including engine coverage.

Customers who select Bell Helicopter's Customer Advantage Plan (CAP), and Turbomeca's Support By the Hour plan, with their aircraft will receive comprehensive aircraft and engine protection with no minimum annual flight hour requirement – all for around $300 per flight hour. Both plans together provide aircraft and engine direct maintenance cost (DMC) protection against unscheduled maintenance at an affordable rate for customers who plan to fly low flight hours.

This collaboration provides Bell 505 customers with DMC protection, increased aircraft availability and residual value protection. When selecting both plans, customers increase their aircraft availability with premier access to Bell Helicopter's dynamic components and Turbomeca's standard engine exchange at no additional charge.

"We are thrilled to work with Turbomeca to offer broader coverage for our Bell 505 customers through their Service By the Hour program alongside our Customer Advantage Plans," said Glenn Isbell, Bell Helicopter's executive vice president, Customer Support and Services. "Our joint solution for the Bell 505 provides our customers an innovative maintenance cost protection solution not found anywhere else in the class."

Franck Saudo, Turbomeca Executive Vice-President Support and Services, commented: "This collaboration with Bell Helicopter is a great opportunity to offer to customers a Bell 505-tailored Support By The Hour contract, from the aircraft acquisition. Delivering a best-in-class solution to Bell Helicopter and our customers is a top priority for us. We are delighted with the progress of this blossoming collaboration."

"We find the Service By the Hour program very attractive. We are working closely with Turbomeca to bring the coverage to our Training Academy Bell 505 aircraft and are evaluating it for our future demo aircraft as well," said Ray Lamas, general manager, Global Customer Training at Bell Helicopter. "Our collaboration with Turbomeca has been outstanding."

The Bell 505 Jet Ranger X™ is backed by Bell Helicopter's renowned customer service support, voted #1 in customer service for 22 years running by Professional Pilot magazine; the company was also recently voted 'best in the business' in Vertical Magazine's Helicopter Manufacturers Survey.

Customers have the ability to learn more about CAP and SBH program by contacting their Bell Helicopter Support & Services Sales Representative.

About Turbomeca (Safran): Turbomeca (Safran, Euronext Paris : SAF) is the leading helicopter engine manufacturer and, since its foundation in 1938, has produced over 72,000 turbines. Turbomeca offers the widest range of helicopter engines in the world and has more than 2,500 customers in 155 countries. Turbomeca has 15 sites and operates on each continent, providing its customers with a proximity service through 44 distributors and certified maintenance centers, 18 Repair & Overhaul Centers, and 90 Field Representatives and Field Technicians. Turbomeca subsidiary Microturbo is the leading European manufacturer of turbojet engines for missiles, drones and auxiliary power units.
Bell 505 Jet Ranger X