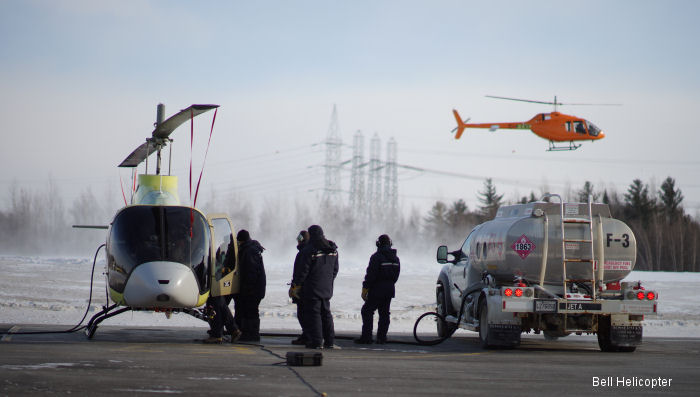 First announced as
BELL SLS
in the 2013 Paris air show, the
Short Light Single
engine helicopter will feature a high visibility, fully flat cabin floor with five forward-facing seats. Performance will include a speed of 125 knots (232 km), a range of 360 to 420 nautical miles (667 km) and a useful load of 1,500 pounds (608 kg).
The new aircraft will be powered by the Turbomeca Arrius 2R engine, 450-550 shp class, with Full Authority Dual-Channel Engine Control (FADEC). It will also meet IATA Stage 4 noise targets.
The new name
Bell 505 Jet Ranger X
was first unveil at Heli-Expo 2014 where has garnered 171 letters of intent.
The Bell 505
first flight
was November 10, 2014 at the Bell Canada Mirabel facility.
The
assembly line
will be located in a Louisiana-funded facility at the Lafayette Regional Airport. A 82,300-square-foot hangar scheduled for completion by June 2015 by KBR Inc and under lease from the state of Louisiana.
As of March 2016, the Bell 505 has received more than 350 letters of intent (LoI) from around the world. It was first delivered to customers in March 2017.
The Bell 505 is certified for operations up to 22,500 feet / 6,858 meters density altitude following the completion of
high-altitude testing
in Nepal in mid-2019.
As of July 2020, the Bell 505 has seen more than 260 worldwide deliveries with more than 45,000 flight hours logged.
On 2020 received EASA certification for
Garmin G1000NXi
integrated avionics suite.
As of February 2021, there are nearly 300 Bell 505 operating in more than 55 countries across six continents, surpassing 50,000 total fleet flight hours.
As of March 2022, over 320 Bell 505s surpassed the 100,000 flight hours
Specifications 505 Jet Ranger X