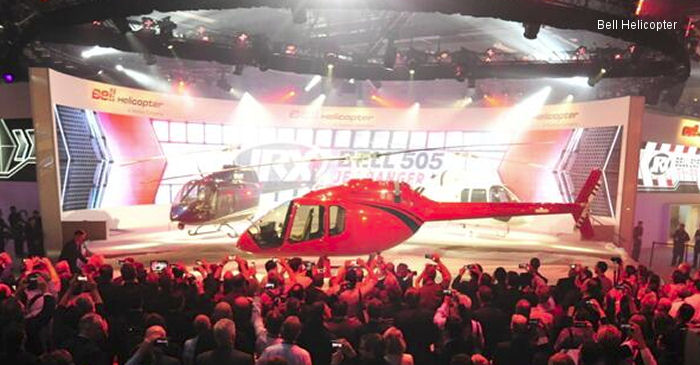 Bell Helicopter, February 25, 2014 - Anaheim, CA (February 25, 2014) – Bell Helicopter, a Textron Inc company, revealed today at HELI-Expo 2014 the Bell 505 Jet Ranger X – designed to redefine the short light single(SLS) class. Hundreds of attendees gathered at booth 4536 to witness the unveiling of the newest generation of Bell helicopters.

"Bell Helicopter changed the face of the industry nearly 50 years ago with the introduction of the legendary JetRanger," said John Garrison, CEO of Bell Helicopter. "Today we reveal the Bell 505 Jet Ranger X, the high-performance, high-value aircraft our customers have been asking for in this category. Not only is the Bell 505 competitively priced, it offers a combination of features, capabilities and support customers have come to expect from Bell Helicopter."

The customer-driven design of the Bell 505 Jet Ranger X places safety, performance and affordability at its forefront, blending proven systems with advanced technology and a sleek, modern design. The Garmin G1000H Integrated Avionics Suite provides pilots critical flight information at a glance to maximize situational awareness. Pilot workload is further reduced by the Turbomeca Arrius 2R engine with dual channel Full Authority Digital Engine Control (FADEC). The Bell 505 features a high inertia rotor system delivering superior auto rotation capabilities. With the ideal combination of speed, range and useful load, the Jet Ranger X is designed to deliver best-in-class performance.

"It's an exciting time to be at Bell Helicopter, working side-by-side with our customers to create the next generation of vertical lift," Garrison said. "Throughout our entire planning and development process, we are engaging our customers. They are providing us with actionable insights about how we can improve our products and what they will need for their missions in the coming years. This input has been invaluable in ensuring we deliver the products our customers need to be successful."

Customers have responded favorably to the new Bell 505 Jet Ranger X, scheduled for first flight late this year. Bell Helicopter has also begun signing letters of intent for the new aircraft at the show. Customers can visit http://www.bell505.com to select specific models and see pricing options before ordering their aircraft directly online.

The Bell 505 Jet Ranger X is a five-seat, single-engine, turbine helicopter leveraging Bell Helicopter's proven technology and nearly half a century of experience defining the SLS market with the original Bell JetRanger. With a cruise speed of 125 knots, range of 360 nautical miles and useful load of 1,500 pounds, the Bell 505 is designed to be the safest and easiest aircraft to fly in its category while still remaining affordably priced. The Jet Ranger X is a multi-mission helicopter, designed to meet a wide variety of missions with its fully flat floor, increased cabin volume and clam shell doors that will provide customers the configuration flexibility needed in today's market. It can support a wide variety of operations categories, including the utility segment, corporate and private owners, and training schools.

HELI-EXPO 2014, held in the Anaheim Convention Center, will host 20,000 industry professionals, more than 700 competitive exhibitors, over 60 helicopters on display and more than 50 educational opportunities, including education courses, seminars, workshops and forums.

About Bell Helicopter: Bell Helicopter, a wholly owned subsidiary of Textron Inc., is an industry-leading producer of commercial and military, manned and unmanned vertical-lift aircraft and the pioneer of the revolutionary tiltrotor aircraft. Globally recognized for world-class customer service, innovation and superior quality, Bell's global workforce serves customers flying Bell aircraft in more than 120 countries.
Bell 505 Jet Ranger X