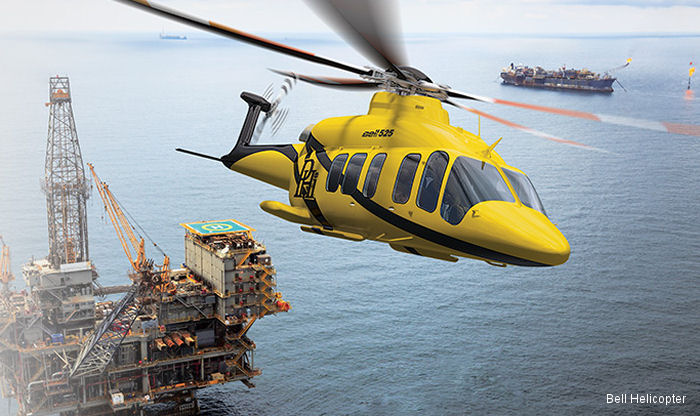 Bell Helicopter, June 15, 2015 - PARIS - Bell Helicopter, a Textron Inc. company, and Milestone Aviation Group, a GE Capital Aviation Services company announced today plans to move forward with a letter of intent (LOI) to acquire 20 Bell 525 Relentless helicopters.

These aircraft will serve a variety of roles with Milestone's lessees around the world, including oil and gas, emergency medical service, search and rescue, and utility opportunities. Delivery of aircraft to Milestone is expected to begin in late 2017.

"We are very pleased to announce our first order with Bell Helicopter," said Milestone's Chairman, Richard Santulli. "With the 525, our customers will benefit from the newest fly-by-wire technology and its mission versatility."

"Milestone is committed to building long-term relationships with industry leaders that deliver value for our customers," said Daniel Rosenthal, Milestone's President. "By securing future delivery positions for the Bell 525, we are continuing to demonstrate our strong commitment to that goal."

"We are thrilled to expand our relationship with Milestone by signing this agreement. Milestone Aviation, owns one of the world's largest commercial helicopter fleets and we are delighted they have placed their trust in this aircraft," said President and CEO of Bell Helicopter, John Garrison. "As the first helicopter to define the super-medium class, the Bell 525 provides Milestone with an aircraft able to perform a diverse set of missions in the most demanding conditions."

The Bell 525 is the world's first fly-by-wire commercial helicopter, designed to operate safely and reliably in austere environments with decreased pilot workload. The aircraft integrates critical systems data to be easily accessible at-a-glance with the first fully-integrated touch screen flight deck designed for helicopters, the Garmin G5000H®. Best-in-class payload, cabin, cargo volumes, comfort and egress complement the technological advancements on the aircraft. The Bell 525 is being tested in Bell Helicopter's fully integrated System Integration Lab (SIL), allowing for virtual flight testing of the Bell 525 before first flight, which is scheduled in the coming weeks.

About Milestone Aviation Group: Milestone Aviation Group, a GE Capital Aviation Services Company, is the world's leading commercial helicopter leasing company. Milestone has a fleet of 187 helicopters worth US $3.2 billion and supports 33 operators in 26 countries on six continents. The company has a forward order book of 117 firm and option aircraft with an estimated aggregate purchase price of US $2.4 billion. These near-term delivery positions of in-demand helicopters are made available for lease globally. Milestone partners with helicopter operators worldwide and supports them through lease financing. The company provides financing for helicopters serving a variety of industries, including offshore oil and gas, search and rescue, emergency medical services, police surveillance, mining and other utility missions.

About GE Capital Aviation Services (GECAS): GE Capital Aviation Services (GECAS) is a world leader in aviation leasing and financing. With over 45 years of experience, GECAS offers a wide range of aircraft types including narrowbodies, widebodies, regional jets/props, freighters and helicopters, plus multiple financing products and services including operating leases, purchase/leasebacks, secured debt financing, capital markets, engine leasing, airframe parts management and airport/airline consulting. GECAS owns or services a fleet of over 2,200 aircraft (1,900 fixed wing/300 rotary wing) in operation or on order, plus provides loans collateralized on an additional 400 aircraft. GECAS serves over 270 customers in over 75 countries from a network of 24 offices.

GE imagines things others don't, builds things others can't and delivers outcomes that make the world work better. GE brings together the physical and digital worlds in ways no other company can. In its labs and factories and on the ground with customers, GE is inventing the next industrial era to move, power, build and cure the world.
525 Relentless in

Milestone Aviation