Bell 429 Cargo Pod by Oceania Aviation


New Zealand Civil Aviation Authority (NZCAA) granted Supplemental Type Certificate (STC) approval for Oceania Aviation's Bell 429 Cargo Pod

Oceania Aviation, November 27, 2017 - Oceania Aviation has achieved approval of a Cargo Pod System for the Bell 429, and they are looking to further expand their role equipment range.

Head-quartered in Auckland, New Zealand, Oceania Aviation's Part 145 Manufacturing division, Airborne Systems, has worked with a private owner to gain New Zealand Civil Aviation Authority (NZCAA) approval for its Bell 429 Cargo Pod Supplemental Type Certificate (STC).

In early 2017, Goulden was approached by a private owner who was unhappy about a recently purchased cargo basket. With the possibility of making changes to the H125 Series cargo pod for the Bell 429, Goulden knew this was a project he and his team could accomplish. Oceania Aviation's streamlined cargo pod has a much lower drag penalty than wire mesh type of basket and keeps valuable property safe from the elements as well as being locked when the aircraft is parked.

Having successfully received NZCAA, TC and FAA approval for role equipment used on the H125 (AS350 & AS355) and MD500 Series helicopters, Engineering Manager Russell Goulden is well accustomed to the STC approval processes.

"We are always excited to increase our product range but more importantly to increase operational capability of an aircraft. At the end of the day we provide operators with a solution to increase the capabilities of their aircraft which can transform into increased revenue and satisfaction. This makes our work very fulfilling. Working alongside operators to create a product that best suits their needs is exactly what we want to be doing."

Fully Composite Cargo Pod

With adjustments to the current H125 Series cargo pod, Airborne Systems have created and received approval for a fully composite cargo pod designed for strength and lightness, becoming the epitome of externally mounted storage on the right side of the Bell 429 aircraft.

"We are now looking for expressions of interest to get our cargo pod approved for the Bell 407. In fact, we welcome expressions of interest to create role equipment for any helicopter type." Goulden says.

Oceania Aviation's cargo pods are currently utilized on AS350s and AS355s for heli-skiing, tourism, logging and utility operations in New Zealand, Canada and more recently in the United States. Having displayed the cargo pod at the Annual HAC Convention & Trade Show in Ottawa, Canada, the reviews of the pod have been very positive.

The proud new owner of the Bell 429 cargo pod was so impressed with both the result that Airborne Systems are now working on a Bell 429 Bike Rack. Goulden and his team are also in the process of achieving several modifications for the MD 902 helicopter including a seat shift kit, cargo hook mirrors, camera mounting systems and more.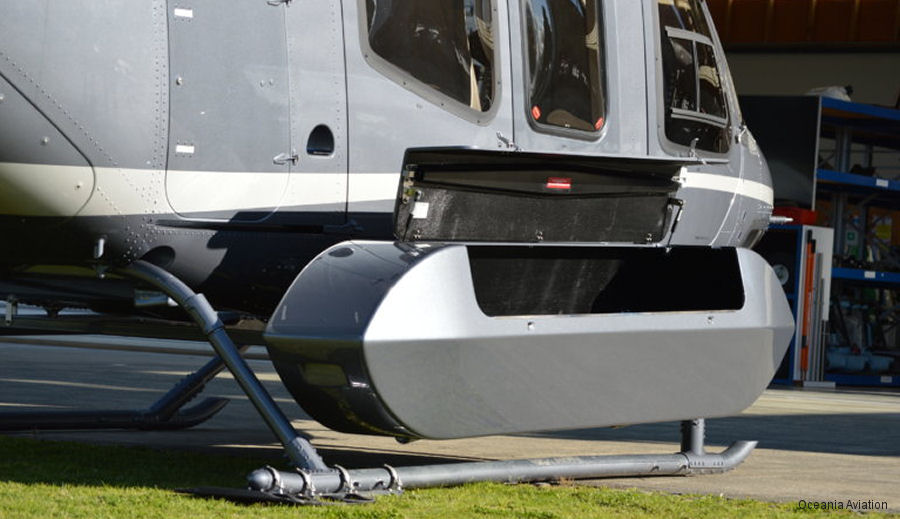 This article is listed in :


Airborne Systems
Oceania Aviation Ltd
Bell 429
--Helicopters Baskets