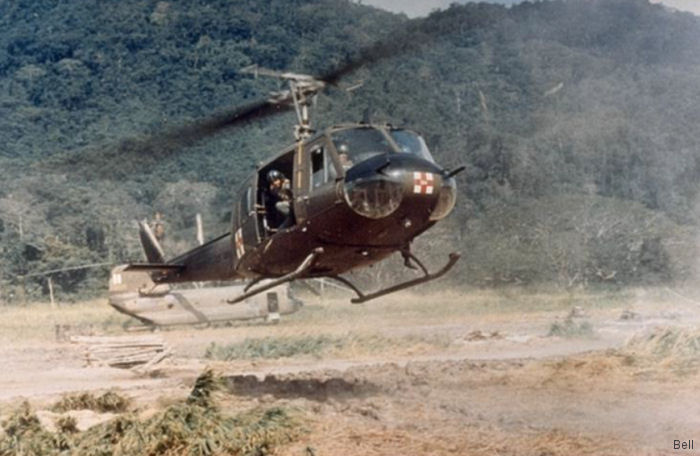 Bell, July 09, 2020
- From our durable Huey aircraft that served and saved warfighters in the Vietnam War to our tiltrotor technology, we have an undeniable military legacy.
During Bell's peak production period during the
Vietnam War
, our teams were producing 150 Bell Hueys per month in addition to 50 other helicopters.
With its reputation as a durable, reliable platform, the Bell Huey earned the respect of the troops. The Huey and Cobra platforms grew into the powerful duo of the
Bell UH-1Y Venom
and the Bell AH-1Z Viper. This fleet continues serves the United States Marine Corps and other global military organizations with their 85 percent commonality and seamless ability to work in tandem.
The pursuit for
tiltrotor technology
began with the Bell XV-3A in 1955. Fast-forward a few years and a lot of testing and development, and Bell had demonstrated the real potential of tiltrotor flight with the first flight of the XV-15 in 1977.
Now, the
Bell Boeing V-22 Osprey
continues to distinguish itself in an expanding number of roles for the U.S. Marine Corps, U.S. Air Force and more recently the U.S. Navy. With over 400 aircraft in the fleet accumulating over 500,000 flight hours, the world's strongest tiltrotor is an unstoppable asset for any military fleet it joins.
Always ready to build the next generation of military aircraft, our teams are pursuing the future of vertical lift by adapting our current technology to meet the needs of the U.S. Army. Bell has been down-selected for both U.S. Army aviation programs, the Future Attack Reconnaissance Aircraft (
FARA
) and Future Long-Range Assault Aircraft (
FLRAA
) programs.
As part of the first selection, Bell is designing, manufacturing, and testing the
Bell 360 Invictus
, a prototype rotorcraft designed to provide improved lethality, survivability, and extended reach for Army Aviation. This selection follows almost a full year of design and risk-reduction work by the Bell team as part of the initial contract phase.
As for FLRAA, Bell is selected to be the project agreement holder for the competitive demonstration and risk reduction (CD&RR) effort. For more than a two and a half years, the
Bell V-280 Valor
has been undergoing flight testing, surpassing 280 knots, performing maneuverability exercises for government visitors and making more huge strides to prove its capabilities.
Our connection to military service runs deep. Building efficient, durable aircraft for servicemen and women has always driven us to create new patents, test new technology and build amazing machines that strengthen these brave, honorable teams for more than 85 years.
The one and only grand ol Lady! Love it👍🏼😎👌🏼
I worked 8 years with BELL UH-1D during my time in German Airforce. What a great time in my life and what a remarkable helicopter with this amazing, unique and typical HUEY sound. I will never forget the sound of an armada flying over you. But also flying it created great memories. Especially auto-rotation wit this single engine. 85 Years - congratulations.

Bell