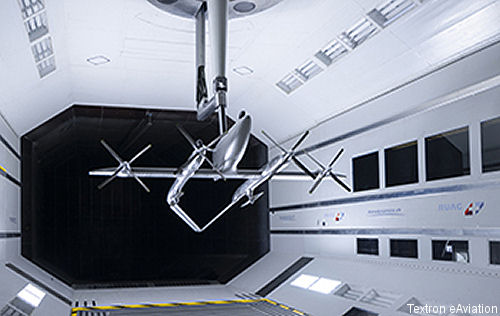 Textron, July 22, 2023 - Wichita, KS, USA – Textron eAviation, a Textron Inc. company, announced it has commenced wind tunnel testing to support the development of its versatile eVTOL aircraft, Nexus.

Testing will validate the performance, stability, and control of the vehicle design to confirm preliminary configuration, range, and speed estimates, as well as how the rotors interact with the vehicle aerodynamics for all phases of flight, including VTOL, transition, and cruise.

Rob Scholl, president and CEO, Textron eAviation, says: "Starting wind tunnel testing is a major milestone for the Nexus, enabling us to calibrate our simulations and validate our design. The Nexus aircraft is designed with a focus on operating economics demanded by customers and meeting the rigorous standards of global safety regulators.

"While eVTOLs have unique configurations in terms of their layout and number of rotors, Textron eAviation is leveraging the extensive experience of programs like the Bell V22 and V280," Scholl said. "The data and insights gained from this will tunnel testing will allow us to further refine our models and designs to design a viable, leading eVTOL aircraft."

The Nexus wind tunnel test is being conducted on a 23% scale model to evaluate the rotors at the full range of conversion angles and power levels, drawing on Textron's decades of test experience from its tilt rotor, turboprop, and jet aircraft product development. The tests also provide immediate information related to tail size, engine power requirements, transition strategies, hover net thrust and aerodynamic drag, clearing the path towards final requirements that meet certification standards.

Textron eAviation comprises the Nexus program, its eVTOL division, and Pipistrel, its Slovenian light sport aircraft manufacturer. The latest model of the Nexus eVTOL is designed to have the potential to serve a range of purposes, including for the passenger transport, cargo, and emergency medical services markets.

About Textron eAviation : Headquartered in Wichita, Kansas, Textron eAviation is focused on sustainable flying, backed by Textron's 100 years of expertise and the restless spirit for innovation that is embodied in our Pipistrel, Cessna, Beechcraft and Bell brands.

Taking the lead in Textron's development of sustainably powered flight, Textron eAviation is leveraging the industry-leading product design, certification, manufacturing, and aftermarket solutions from across Textron's businesses coupled with the newly acquired expertise of Pipistrel.

About Textron Inc. : Textron Inc. (NYSE: TXT) is a multi-industry company that leverages its global network of aircraft, defense, industrial and finance businesses to provide customers with innovative solutions and services. Textron is known around the world for its powerful brands such as Bell, Cessna, Beechcraft, Pipistrel, Jacobsen, Kautex, Lycoming, E-Z-GO, Arctic Cat, and Textron Systems.

Bell Nexus

Bell Air Taxi
Bell Helicopter