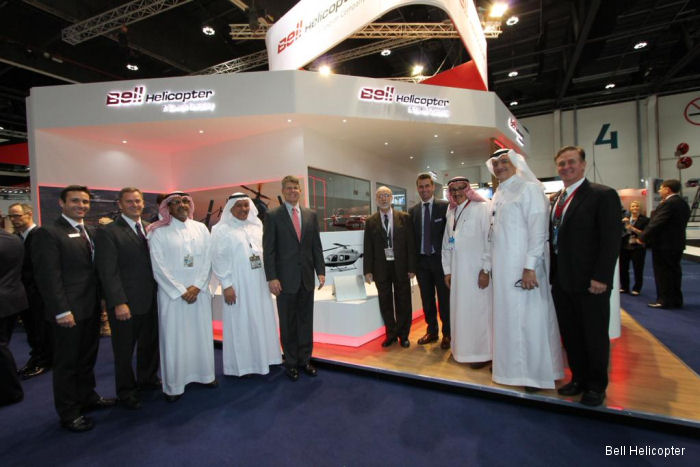 Bell Helicopter, February 24, 2015 - Abu Dhabi, United Arab Emirates – Bell Helicopter, a Textron Inc. company, announced today the signed purchase agreement for a Bell 429 outfitted to perform utility roles in the Middle East by Saudi Geological Survey.

The company will use the aircraft to support geological mapping, mineral exploration and many other sustainable management activities.

The aircraft was signed for by Dr. Zohair A. Nawab, President of SGS in a formal signing ceremony at International Defense Exhibition and Conference (IDEX).

"We needed an aircraft that could withstand the extreme environments we operate in day-to-day," said Nawab. "Using the Bell 429's performance capabilities in high and hot conditions coupled with exceptional vibration control and stability we can better acquire geological data that can help provide a better quality of life to our nation."

Saudi Geological Survey is an earth science organization serving their community to create a healthy environment. The organization places an emphasis on understanding the geologic, economic and engineering factors that affect sustainable management of resources.

"We are confident the Bell 429 will aid in making great contributions to the geological field and help the community in which it serves," said Steve Suttles, vice president and managing director of sales in the Middle East and Africa. "As the rotorcraft industry continues to grow in the region, our customers are realizing the reliability and versatility of the Bell 429."

The Bell 429 is one of the most advanced light twin helicopters ever developed, offering a fully integrated glass cockpit with advanced drive system and best-in-class WAAS navigation and IFR capability. Additional safety features include a collective mounted throttle, damage tolerant hub and rotor system, and energy attenuating seats. It is the first helicopter certified through the MSG-3 process, resulting in reduced maintenance costs for operators.

About Bell Helicopter: Bell Helicopter, a wholly owned subsidiary of Textron Inc., is an industry-leading producer of commercial and military, manned and unmanned vertical-lift aircraft and the pioneer of the revolutionary tiltrotor aircraft. Globally recognized for world-class customer service, innovation and superior quality, Bell's global workforce serves customers flying Bell aircraft in more than 120 countries.
429 in

Saudi Geological Survey
Bell 429 Delivered to Saudi Geological Survey