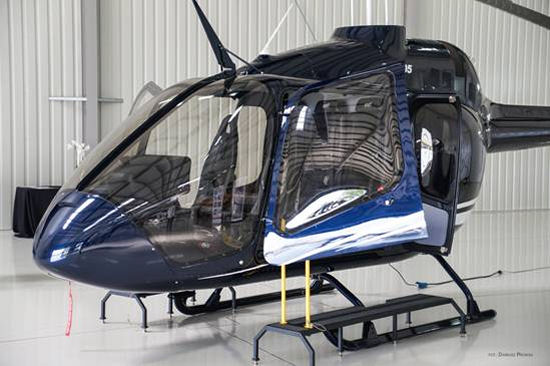 Bell Helicopter, March 10, 2016 - Fort Worth, Texas – Bell Helicopter, a Textron Inc. company, announced continued program performance and outstanding customer response for the Bell 505 Jet Ranger X.

Launched at HELI-EXPO 2014, the program has moved from a mockup to prototype in less than two years. Flight testing is underway and the company is making significant progress toward type certification.

"The Bell 505 program is proceeding with velocity. This helicopter will exceed customer desires, combining proven capabilities with leading edge technologies," said Matt Hasik, Bell Helicopter's executive vice president of Commercial Business. "Our customers asked for high performance and high value, and the Bell 505 delivers."

Three flight test vehicles have amassed more than 575 flight hours and work has begun to prepare for low-rate initial production at the Louisiana Assembly Center which opened last year in Lafayette, Louisiana. Additionally, engine partner Turbomecca received EASA type certification for the Arrius 2 R engine which will power the Bell 505.

SALES

"Customer response to this aircraft has been inspiring," said Patrick Moulay, Bell Helicopter's vice president of Commercial Sales and Marketing. "Since launching the program, we have received more letters of intent for the Bell 505 than our competitors have delivered for short light single helicopters in the past two years combined."

With advancements in safety, performance and capability at roughly $1M price point, the Bell 505 has received more than 350 letters of intent (LOI) from around the world. Since January Bell Helicopter has received additional letters of intent from customers in North America, the Middle East, China and Puerto Rico.

- Bell Helicopter signed a LOI with Fouad Bardawil, Marketing Manager, BGS Corporation for a Bell 505. The aircraft is destined for an undisclosed client and will operate in Iraq to fulfill an observation mission

- Bell Helicopter signed a LOI with Hebei Jinpeng Aviation Club Corporate Limited. The aircraft will be used for corporate travel and tourism throughout China

- Bell Helicopter signed a LOI with Empire Gas Co. Inc., a Puerto Rican based propane company. The aircraft will be used for corporate transport throughout the Caribbean. This is the first Bell 505 LOI in the Caribbean

- Bell Helicopter signed a LOI with Redding Air Service, while at Heli-Expo, and the aircraft will be used for tourism and utility operations in the western United States.

SUPPORT AND SERVICES

"We are committed to provide 505 customers more choices when it comes to supporting and servicing their aircraft," said Glenn Isbell, Bell Helicopter's executive vice president of Customer Support and Services. "With the combined Bell Helicopter Customer Advantage Plan and Turbomecca Support by the Hour solution, we are able to protect aircraft and engine direct maintenance costs for Bell 505 customers of around $300 per flight hour."

Additionally, Bell Helicopter has signed agreements with Mechanical Specialties Inc. of Olympia, Washington, for an authorized cargo hook system and Paravion Technology Inc. of Fort Collins, Colorado, for an authorized air conditioning system. Both systems will be available as type-certificated kits for factory or aftermarket install.

"This is the year we go from a development program to a production program," said Hasik. "We are working closely with Transport Canada on Type Certification and look forward to start delivering aircraft later this year.

The Bell 505, which first flew November 10, 2014, is a five-seat, single-engine, turbine helicopter leveraging Bell Helicopter's proven technology and nearly half a century of experience. The Bell 505 is equipped with a dual channel FADEC, the first in the short light single weight class, increasing safety through redundant engine controls and lightening pilot workload so they can focus on accomplishing the mission. An integrated glass cockpit as part of the base configuration simplifies the cockpit for the crew, replacing mechanical dials with 10" flat screens allowing the crew to focus on the information they need for a given flight condition.

About Bell Helicopter: Bell Helicopter, a wholly owned subsidiary of Textron Inc. (NYSE: TXT), is an industry-leading producer of commercial and military, manned and unmanned vertical-lift aircraft and the pioneer of the revolutionary tiltrotor aircraft. Globally recognized for world-class customer service, innovation and superior quality, Bell's global workforce serves customers flying Bell aircraft in more than 120 countries.
Bell 505 Jet Ranger X

Mechanical Specialties
State of Washington