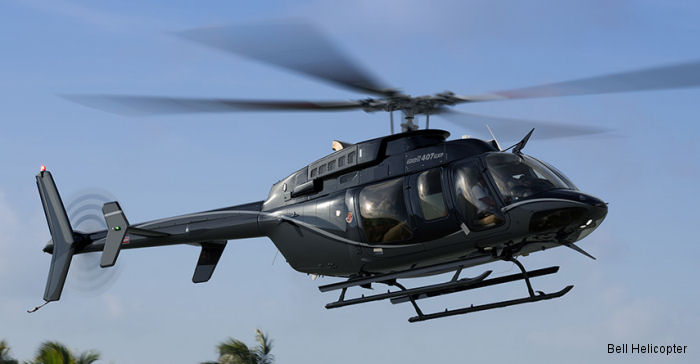 Bell Helicopter, March 03, 2015 - Orlando, FL – Bell Helicopter a Textron Inc. company, introduced today at Heli-Expo 2015 the new Bell 407GXP. The new aircraft incorporates the reliability and advanced technology of the Bell 407GX platform, and introduces performance improvement, payload increase and pilot workload reduction.

"The Bell 407GXP enhances customer value with improvements in mission capability," said Matt Hasik, Bell Helicopter's executive vice president of commercial business. "We are constantly communicating with our customers to find out what they are looking for in an aircraft, and we have invested in this upgrade to demonstrate our commitment to changing the way the world flies."

Derived from the Bell 407GX platform, the Bell 407GXP has an additional 50 lbs (22.5 kg) of payload capability, coupled with the new M250 Rolls-Royce engine that improves performance and fuel efficiency delivering class leading hot and high performance. The aircraft is also equipped with new avionics features such as a hover performance calculator improvement, as well as a transmission TBO extension of +500 hours that will lower maintenance costs.

"The Bell 407 has proven to be a very popular aircraft with over 1,200 flying worldwide today," added Hasik. "We designed this aircraft to enable our customers to perform their missions safe and efficiently, and the Bell 407GXP will only continue to improve those qualities."

The Bell 407GXP is featured in the Bell Helicopter booth this year at Heli-Expo in Orlando, Florida, where attendees have the opportunity to see the unveiling of the aircraft. Deliveries for the Bell 407GXP are expected to begin this year.

About Bell Helicopter: Bell Helicopter, a wholly owned subsidiary of Textron Inc., is an industry-leading producer of commercial and military, manned and unmanned vertical-lift aircraft and the pioneer of the revolutionary tiltrotor aircraft. Globally recognized for world-class customer service, innovation and superior quality, Bell's global workforce serves customers flying Bell aircraft in more than 120 countries.
Bell 407GXP