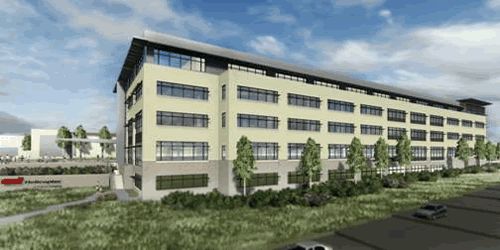 Bell Helicopter, October 15, 2012 - FORT WORTH, TX Bell Helicopter, a Textron Inc. company, has commenced construction for its new global headquarters in Fort Worth, Texas. Governor Rick Perry, U.S. Congresswoman Kay Granger, Lieutenant Governor David Dewhurst, Tarrant County Judge Glen Whitley and Mayor Betsy Price joined John Garrison, President and CEO of Bell Helicopter, to commemorate the occasion at a groundbreaking ceremony today at Bell Helicopter's headquarters in Fort Worth.

The leaders made remarks highlighting Bell Helicopter's march of progress in its military and commercial programs, its global expansion and responsiveness, its commitment to Fort Worth, as well as the company's desire to help revitalize Northeast Tarrant County.

Bell Helicopter plans to invest $230 million in new and upgraded facilities as part of a comprehensive revitalization effort. Bell Helicopter is revitalizing its facilities to provide its more than 6,000 North Texas-based employees with a better, safer, more comfortable work environment, and to attract and retain the talented workforce needed to grow its business in Texas.

"Bell Helicopter has long been an important and valuable member of the Texas aerospace and aviation community, and we're excited they have recommitted to keeping Texas the home of this dynamic and enduring endeavor," Texas Gov. Rick Perry said. "Texas' commitment to our strong, conservative fiscal principles, like low taxes, reasonable regulations, fair courts and a skilled workforce, keep companies like Bell Helicopter healthy and happy, and continue to attract employers and individuals alike to the Lone Star State."

U.S. Congresswoman Kay Granger also attended Monday's groundbreaking, and lauded the company's revitalization efforts. "These investments reflect Bell Helicopter's commitment to the community, and mirror their commitment to the customers they serve - the men and women of the armed forces and first responders around the globe."

"I applaud Bell Helicopter's commitment to the State of Texas and their leading role in the aviation and aerospace industry," said Lt. Governor Dewhurst. "Their combination of research and development, engineering, manufacturing and assembly operations is exactly the kind of work we need to keep Texas at the forefront of aerospace technology and keep our economy growing."

The revitalization effort is designed to consolidate more than 1.2 million square feet of excess space, reduce building maintenance costs and reduce 20% of the company's waste and energy use by 2015. These changes are expected to improve coordination and collaboration, increase cost-competitiveness and are projected to save Bell Helicopter $19 million in annual operating expenses.

"I appreciate Bell Helicopter's commitment to our community. The revitalization of Northeast Tarrant County, Fort Worth and the mid-cities is absolutely essential and they are playing a key role in transforming this region," said Tarrant County Judge Glen Whitley of the company's investments along the State Highway 10 Corridor.

Bell Helicopter's renovations and new construction follow the practices of LEED - an internationally recognized green building program. The company's state-of-the-art employee center incorporates the use of natural lighting to save energy and efficient landscaping that requires 40% less water than traditional methods. Bell Helicopter has been recognized as a leader in the green initiative as the 2011 winner for both The Greater DFW Recycling Alliance "Outstanding Sustainability Program" and the North Texas Corporate Recycling Association (NTCRA) "Stupendous Recycling Program".

"Bell Helicopter is a large part of the rich legacy of the aerospace and defense industry in Fort Worth. I am proud to have Bell Helicopter headquartered in Fort Worth and honored that the city is a partner in these vital investments," commented Mayor Price.

Bell Helicopter's future headquarters will be home to administration, support functions, program offices, a customer center and an integrated training facility. The Bell Helicopter training facility, currently located at Fort Worth Alliance Airport, is moving to the new global headquarters to bring Bell Helicopter's products closer to its people.

"Expanding our global headquarters in Fort Worth is a smart approach that makes sense as a business and a neighbor in the community. This is an investment in our future that enables us to become a stronger global competitor while providing our employees with a better, safer, more comfortable work environment," stated Garrison.

About Bell Helicopter: Bell Helicopter, a wholly owned subsidiary of Textron Inc., is an industry-leading producer of commercial and military, manned and unmanned vertical-lift aircraft and the pioneer of the revolutionary tiltrotor aircraft. Globally recognized for world-class customer service, innovation and superior quality, Bell's global workforce serves customers flying Bell aircraft in more than 120 countries.

About Textron Inc: Textron Inc is a multi-industry company that leverages its global network of aircraft, defense, industrial and finance businesses to provide customers with innovative solutions and services. Textron is known around the world for its powerful brands such as Bell Helicopter, Cessna Aircraft Company, Jacobsen, Kautex, Lycoming, E-Z-GO, Greenlee, and Textron Systems.

Bell Helicopter