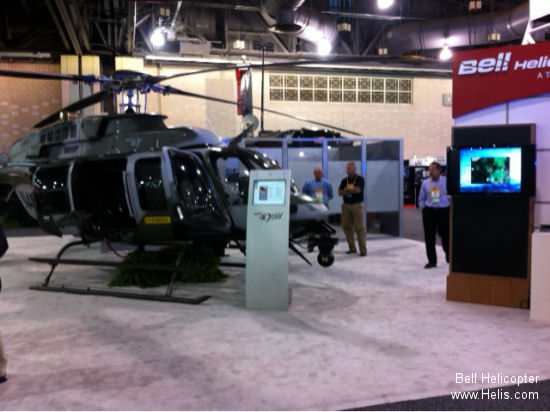 Bell Helicopter, October 21, 2013 - Philadelphia, PA - Bell Helicopter, a Textron Inc. company, will display its first commercially qualified armed helicopter, the Bell 407AH, at IACP 2013, the International Association of Chiefs of Police 120th annual conference and exposition.

Show attendees will have the opportunity to learn more about Bell Helicopter's best-selling aircraft in the law enforcement segment, the Bell 429 and Bell 407GX , as well as the company's newest commercial aircraft, the Bell SLS. IACP will take place this year at the Pennsylvania Convention Center in Philadelphia, October 19 to 23.

"As a premier law enforcement industry event, IACP allows us to meet with airborne law enforcement operators from around the world to discuss their current and future needs," said Danny Maldonado, Bell Helicopter's executive vice president of Sales and Marketing. "Meeting our customers' requirements is paramount to our mutual success as we continue to invest in upgrades to our current fleet and develop new aircraft."

The Bell 429 and Bell 407GX are two examples of Bell Helicopter's ability to meet customer demands with advanced aircraft features and specifications. Both platforms continue to gain momentum and receive accolades from operators in the airborne law enforcement segment.

The Bell 429 delivers exceptional speed, range, hover performance and enhanced safety margins with a fully-integrated glass cockpit, advanced drive system and best-in-class WAAS navigation and IFR capability. The Bell 429 has more cabin space than any other light twin helicopter, with flat flooring and seating for seven passengers and one flight crew. Wide 60 inch side doors and optional rear clam-shell doors provide quick and easy access for flight officers when every second counts.

The Bell 407GX provides power and speed with a smooth, quiet ride and a multi-mission cabin that accommodates six passengers. Built on the proven Bell 407 platform, the 407GX features the Garmin G1000H flight deck, providing critical flight information at a glance for greater situational awareness and increased safety.

Bell Helicopter's new short light single engine helicopter will feature a high visibility cockpit and a fully flat cabin floor with five forward-facing seats. It is designed to meet performance targets recommended by a customer advisory council and will also include the Garmin G1000H Integrated Avionics Suite.

The International Association of Chiefs of Police Conference and Law Enforcement Education and Technology Exposition features keynote speakers, forums and technical workshops, as well as the largest exhibit hall of products and services in the law enforcement community.

About Bell Helicopter: Bell Helicopter, a wholly owned subsidiary of Textron Inc., is an industry-leading producer of commercial and military, manned and unmanned vertical-lift aircraft and the pioneer of the revolutionary tiltrotor aircraft. Globally recognized for world-class customer service, innovation and superior quality, Bell's global workforce serves customers flying Bell aircraft in more than 120 countries.
Bell 407AH