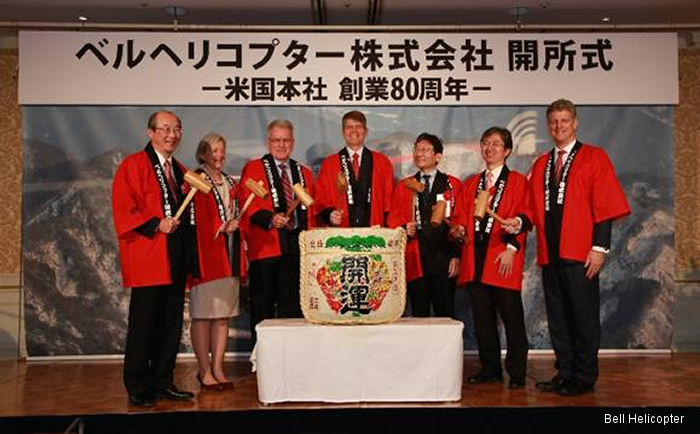 Bell Helicopter, March 20, 2015 - Tokyo, Japan – Bell Helicopter, a Textron Inc. company, today announced the official opening of its new Bell Helicopter Co., Ltd. office in Tokyo.

Located in Ebisu Garden Place Tower, the new office is within walking distance of the headquarters of long-standing business partner, Fuji Heavy Industries.

In celebration of the company's rich history in the market and commitment to expanding its offerings in Japan, a series of events were held this week including an inaugural customer reception held on March 19. The reception was hosted by Bell Helicopter President and CEO, John Garrison, and attended by VIP guests including the honorable Mackenzie Clugston, Ambassador of Canada to Japan, and Jessica Webster, Minister Counselor for Economic and Science Affairs from the US Embassy in Japan.

"Since the establishment of Bell Helicopter Co., Ltd., in January 2014, we have been honored that six commercial customers have placed their trust in Bell Helicopter by purchasing 16 of our helicopters, and that Japan's Ministry of Defense has announced its decision to procure the Bell Boeing V-22 Osprey," said Garrison in his remarks to attendees. "We are proud of our history here in Japan, and we look forward to serving the Japanese rotorcraft market for many years to come."

"For the last 55 years, our licensed work has been with our valued business partner – Fuji Heavy Industries. We are proud to build upon this historical relationship as we pursue new opportunities with Fuji and the 1,000 Japanese companies that make up their UH-1J supply chain, to shape the future of rotorcraft in Japan, together," he continued.

Garrison hosted the inaugural customer reception of Bell Helicopter's new office following the delivery of a Bell 412EP to Bell Helicopter's long-standing customer, Nishi Nippon Airlines Co., Ltd., on March 19. The sale and delivery were the first conducted through Bell Helicopter's new office in Tokyo, and is the 33rd Bell aircraft the customer has owned since the delivery of their first helicopter, a Bell 47G1 in 1956. An educational Customer Seminar was also held earlier in the day, providing current and potential customers an overview of Bell's commercial and military aircraft and customer support and service offerings available.

This year Bell Helicopter also celebrates its 80th year of changing the way the world flies with safe and superior vertical lift that saves lives and provides customers exceptional value. Bell Helicopter's history in Japan started with the delivery of three Bell 47D-1s to Mainichi Press, Yomiuri Press and Chunichi Press on Nov. 24, 1952. Historically, Bell has supplied most of the helicopters - more than 1,500 aircraft - that have been used or are still in service in Japan.

Bell Helicopter Co., Ltd. was established in Japan in January 2014 for the primary purpose of building upon long-term customer and i partner relationships to the benefit of Japan's rotorcraft market. Bell Helicopter's new office in Tokyo now performs the sales and marketing efforts for new aircraft in the commercial and civil government sectors in Japan. In April it will also be responsible for sustaining Bell Helicopter's aftermarket service efforts including supporting its authorized Customer Service Facilities, Fuji Heavy Industries, Naka Nihon and Aero Asahi.

Bell Helicopter Japan