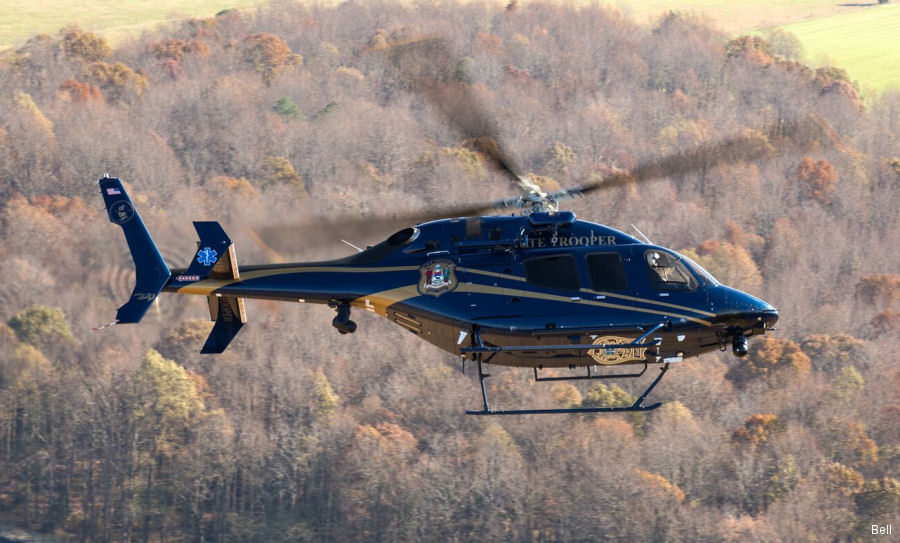 Bell, November 02, 2023 - Fort Worth, TX – Bell Textron Inc., a Textron Inc. company, announced the signed purchase agreement for two Bell 429s by Delaware State Police (DSP).

In addition to law enforcement operations, the Bell 429 will also aid in the completion of emergency medical services and search-and-rescue operations.

Lane Evans, director, North America Sales said "This year, Bell joins in DSP's celebration of an incredible achievement. The Bell 429 aircraft will be the second Bell 429 to join DSP's fleet and continue to be critical to providing law enforcement services to its more than 1 million citizens and visitors, and we look forward to building our rich history well into the future."

A long-time Bell operator, the DSP is celebrating its 100th anniversary this year. Earlier in the year, Bell marked this milestone with a lookback on the agency's history.

Captain Jeff Whitmarsh, aviation unit commander, DSP said "DSP greatly values our long-standing relationship with Bell, and we are most proud of our 429 aircraft. The citizens and visitors of our state rely on us to transport critically sick and injured patients, locate the missing and lost, while providing aerial support for police-related missions. In turn, we rely on Bell to provide us with top-tier equipment and helicopters to fulfill this role. Bell answers this call time and time again"

The Bell 429 is the only light twin-engine helicopter on the market with true two-litter capability, featuring enough cabin space for two medical attendants and two crew members. The Bell 429 also offers exceptional flight performance with a fully integrated glass cockpit, advanced drive system and best-in-class SBAS navigation and Instrument Flight Rules (IFR) capability.

It is the first helicopter certified through the MSG-3 process, resulting in reduced maintenance costs for operators. The Bell 429 also features a spacious cabin and extra-large 60-inch side doors, as well as IFR capability, certified for single or dual pilot operations.

The Bell 429 is one of the most advanced light twin helicopters ever developed. It delivers exceptional speed, range and hover performance, and offers operators a state-of-the-art single pilot IFR helicopter with top user-rated in-service support. The powerful and reliable Bell 429 serves the full spectrum of segments including air medical, law enforcement, oil & gas, utility, and corporate.

DSP

Delaware State Police
State of Delaware
429 in

State of Delaware