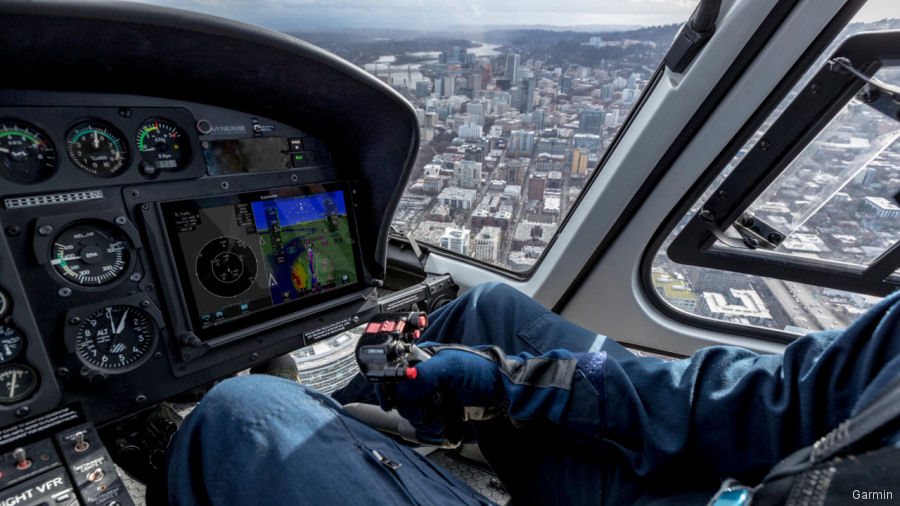 Garmin, June 05, 2019 - Garmin is pleased to announce it has received European Aviation Safety Agency (EASA) approval for the G500H TXi, the next generation touchscreen flight display for helicopters.

Built on the proven capabilities of the original G500H series, the G500H TXi offers a vastly expanded array of features, options and panel possibilities that bring a new level of reliability, adaptability and affordability to helicopter operations.

The G500H TXi boasts a bright LCD design including a large 10.6-inch display and two versions of 7-inch displays, available in portrait or landscape orientation, and features traditional concentric knobs for added versatility and convenience.

For helicopter-specific mission readiness, the G500H TXi is equipped with a five-color Helicopter Terrain Awareness and Warning System1 (HTAWS), WireAware wire-strike avoidance technology and Garmin HSVT 3-D synthetic vision. The G500H TXi also features multiple video input options, night vision goggle (NVG) compatibility and a graphical map overlay within the horizontal situation indicator (HSI) for most display formats. For helicopters already equipped with the original G500H series flight displays, full G500H TXi compatibility with existing system sensors makes for an easy, cost-effective upgrade path.

The system's familiar user interface and best-in-class graphical display capabilities enable pilots to access and process more high-value flight information at a glance. The G500H TXi incorporates a clean-sheet touchscreen design with modern processors that support improved map and chart rendering, faster panning and contemporary single-finger zoom and pinch-to-zoom gestures.

Through any combination of the touchscreen or dual concentric knobs, pilots can quickly access and view flight information at a glance. Modernized displays and large fonts offer improved readability, while the intuitive user-interface helps reduce overall pilot workload. To support night operations, the G500H TXi is provisioned for NVG compatibility.


---

Offering an impressive array of flexible configuration display options, the G500H TXi is available as a 10.6-inch horizontal format display that can accommodate PFD information and an MFD side-by-side within the same unit. Similarly, the 7-inch portrait format displays can be individually dedicated to PFD with the HSI map or MFD functions. Another option, where panel space is limited, allows the 7-inch landscape format display to serve as a dedicated PFD with instrument tapes, a half-arc HSI and optional Garmin HSVT 3-D synthetic vision.

The system can be mixed and matched with up to two of the high-resolution touchscreen displays, and for added versatility and convenience, most control functions can be accessed by the traditional concentric knobs or touchscreen inputs.

For the ultimate in hazard avoidance solutions, the G500H TXi supports high-resolution, five-color HTAWS when it's paired with an HTAWS-equipped GTN or GNS series navigator. Using WAAS GPS position information compared with the system's internal databases, the HTAWS offers forward-looking avoidance capability to predict in advance where potential hazards may exist to help pilots maintain safe separation from nearby terrain, towers or obstacles. In addition to the already extensive databases found in its fixed-wing counterpart, every G500H TXi system uses a helicopter-specific obstacles database featuring over 200,000 additional low-altitude obstacles.

For added protection, an expanded version features over 700,000 miles of power lines, and the Garmin WireAware wire-strike avoidance technology uses this database to overlay powerline locations and relative altitude information on the moving map and provides both aural and visual alerting when operating near powerlines.

Designed to interface with a wide range of avionics equipment, including the GTN 650/750 series navigators, the G500H TXi provides full touchscreen continuity between the navigation, communication and flight display functions in a panel. The G500H TXi flight display system is available immediately starting at $23,495 USD for the 7-inch display and $27,495 USD for the 10.6-inch display. The G500H TXi comes with a two-year warranty and is supported by Garmin's award-winning aviation product support team, which provides 24/7 worldwide technical and warranty support.

About Garmin: Garmin International Inc. is a subsidiary of Garmin Ltd. (Nasdaq: GRMN). Garmin Ltd. is incorporated in Switzerland, and its principal subsidiaries are located in the United States, Taiwan and the United Kingdom. Garmin is a registered trademarks and Garmin Pilot, WireAware, HSVT, GMA and GTN are trademarks of Garmin Ltd. or its subsidiaries.

Garmin
Garmin G500H TXi Flight Displays Certification
EASA
European Commission