Spanish Guardia Civil Received First Two AS365N3


The Spanish Ministry of Agriculture, Food and Environment (MAGRAMA) transferred the first 2 of 4 AS365N3 to the Civil Guard (Guardia Civil)

Guardia Civil, September 07, 2016 - Spanish Civil Guard (Guardia Civil) General Director Arsenio Fernández de Mesa has received at the headquarters of the Air Service of Torrejón de Ardoz (Madrid) two of the four helicopters provided by the MAGRAMA (Ministry of Agriculture, Food and Environment)

The Dauphine AS365N3 helicopters will be soon operational and will be mainly dedicated to maritime surveillance

The Civil Guard has trained six pilots and five mechanics to operate with this model, which will mean a saving of more than € 1,800,000 for the State Administration

The helicopters were assigned under an agreement signed between the Ministry of the Interior and the MAGRAMA last December 14th and are equipped for surveillance, control and inspection of fishing activity at sea. Their payload, speed and autonomy performance make them highly effective in maritime surveillance tasks.

The AS365N3 is a helicopter that can take off with 4300 Kg doubling the capacity of the Bo105 currently in use. It can reach 175 km/h and has a range close to 400 nm in flights up to 4 hours without refueling.

Air Service of the Civil Guard

The Air Service of the Guard (SAER, Servicio Aereo) has a staff of 381 Civil Guards between pilots (134), mechanics (150), aeronautical engineers, radar operators and technical and administrative personnel.

Since its inception, the Air Service has carried more than 235,000 flight hours and its pilots have an average experience of over 2200 hours.

The current fleet consists of 2 CN 235-300 fixed-wing aircraft and the helicopters includes 16 Bo105, 13 EC135, 8 Bk117 plus the 4 AS365N3.

Overseas Deployments

The SAER has been regularly participating in different activities promoted by the FRONTEX Agency, courses, working groups and Operations such as Hera in Mauritania, Hermes in Italy, Poseidon in Greece and Indalo in Almeria and Malaga.

Since June 2006, it has a helicopter in Nouadhibou (Mauritania), in a mission against illegal immigration or other illicit activities. In 2009, another Memorandum of Cooperation was signed between the Directorate General of the Civil Guard and the Delegation for the Monitoring of Fishing and Sea Control of the Ministry of Fisheries and Maritime Economy of the Islamic Republic of Mauritania, which protects the presence of SAER aircraft in that country.

Currently a CN-235 aircraft is deployed at the base of Sigonela (Italy) under Operation Triton to control immigration from the North African coast developed by the European Union.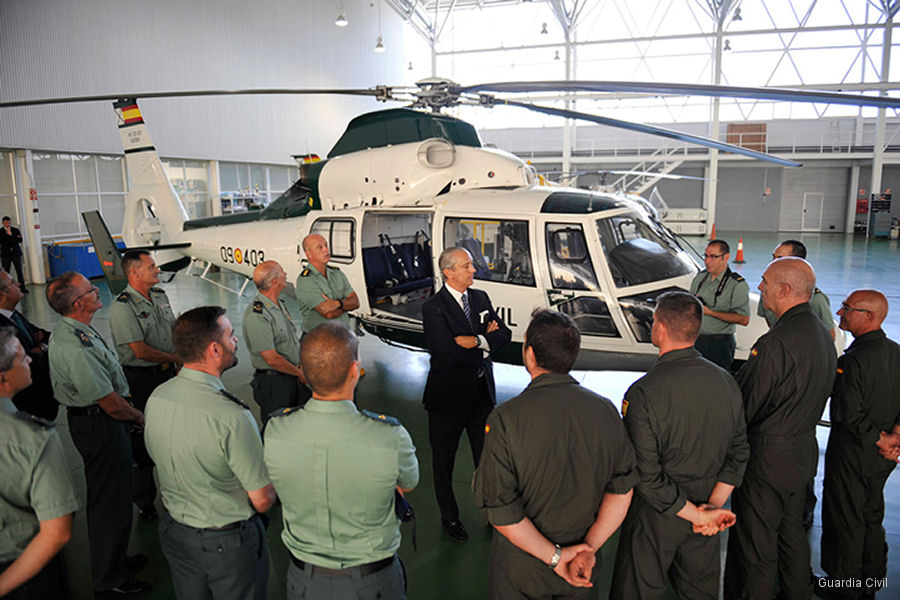 This article is listed in :
Eurocopter AS365N3 Dauphin 2 in

Guardia Civil
Eurocopter AS365 Dauphin 2 in

Ministerio de Agricultura, Alimentacion y Medio Ambiente
FRONTEX

Torrejon