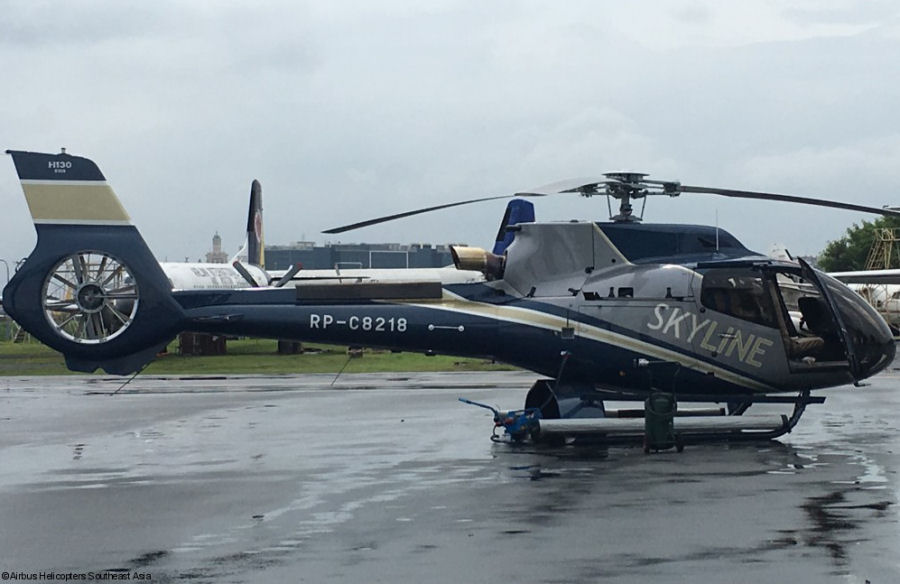 Airbus Helicopters, August 03, 2017 - Philippines-based charter operator GCA Skyline Aviation Inc. welcomed its first H130 in early July.

Currently operating a H125, the new H130 will be immediately operational to perform similar commercial missions, including VIP transport and tourism for GCA Skyline.

"As a fast growing company, we look to the most efficient and reliable aircraft to expand our operations in a sustainable manner", said Joenina Mah, Accountable Director of GCA Skyline Aviation Inc. "Having experienced the powerful and cost-efficient H125 and the successes it has brought us, we are confident that the H130 is the ideal platform to meet our needs, as we expand our operations."

The H130's roomy interior allows an eight-seater configuration, ideal for panoramic helitours and comfortable VIP transportation. Thanks to its flat floor design, the H130 can be easily reconfigured within minutes to match a wide range of missions, including emergency medical services, law enforcement, as well as search and rescue.

"The Philippines is the one of the most active markets in the Southeast Asia region, presenting abundant opportunities for new helicopter acquisition. We are happy that Airbus Helicopters is chosen by GCA Skyline once again as its sole helicopter provider. With our customer centre conveniently located at the airport, we are committed to ensuring full support and providing comprehensive services to GCA Skyline", said Lionel de Maupeou, Managing Director of Airbus Helicopters Philippines.

The H130 is a member of the Ecureuil family of light helicopters, renowned for its performance, reliability, safety and multi-mission capability. In the Philippines, close to 60 Ecureuil helicopters are currently flown by civil and parapublic (C&P), and commercial operators, making them the most popular helicopters. Airbus Helicopters takes up 50% market share in the commercial and C&P segments in the Philippines.

About Airbus: Airbus is a global leader in aeronautics, space and related services. In 2016, it generated revenues of €67 billion and employed a workforce of around 134,000. Airbus offers the most comprehensive range of passenger airliners from 100 to more than 600 seats. Airbus is also a European leader providing tanker, combat, transport and mission aircraft, as well as Europe's number one space enterprise and the world's second largest space business. In helicopters, Airbus provides the most efficient civil and military rotorcraft solutions worldwide.
Airbus H130
Airbus Helicopters Southeast Asia