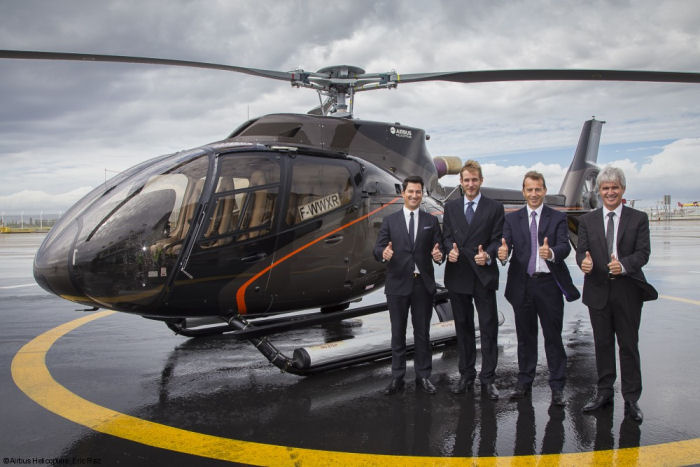 Airbus Helicopters, September 17, 2015 - Marignane – Monacair signed today an order for six H130s to set up an improved service of regular scheduled flights linking Monaco Heliport to Nice International Airport.

The first commercial flight is planned for January 2016 with a flight every 15 minutes.

Specializing in private helicopter management, Monacair has valuable experience in terms of VIP transport and serves customers seeking both personalized and high-quality services. Based in Monaco, the operator manages a fleet of 20 helicopters, half of which are Airbus Helicopters. Thanks to the purchase of these six H130 light helicopters, Monacair will now operate its own helicopter fleet.

"We are really excited with this new challenge and I am sure our customers will appreciate the aircraft's comfort and high visibility" said Gilbert Schweitzer, managing director of Monacair. "As in all other services proposed by Monacair, we want to offer the best to our clients and the H130 provides a unique travelling experience."

The H130 comes from the Ecureuil family of light helicopters, renowned for its performance, reliability, safety and multi-mission capability. The helicopter accommodates one pilot and up to six passengers.

"I want to thank Monacair for selecting the H130, which has the largest cabin of any single-engine rotorcraft in the world" said Dominique Maudet, Airbus Helicopters Executive Vice President for Global Business and Services. "This contract is another step forward in our long-lasting relationship and I am confident that the H130 will provide a superior service and contribute to the success of our customer's new venture."

About Airbus Helicopters: Airbus Helicopters is a division of Airbus Group. The company provides the most efficient civil and military helicopter solutions to its customers who serve, protect, save lives and safely carry passengers in highly demanding environments. Flying more than 3 million flight hours per year, the company's in-service fleet includes some 12,000 helicopters operated by more than 3,000 customers in 152 countries. Airbus Helicopters employs more than 23,000 people worldwide and in 2014 generated revenues of 6.5 billion Euros. In line with the company's new identity, fully integrated into Airbus Group, Airbus Helicopters has renamed its product range replacing the former "EC" designation with an "H".
Location :

Monaco Heliport
H130 in

Monacair