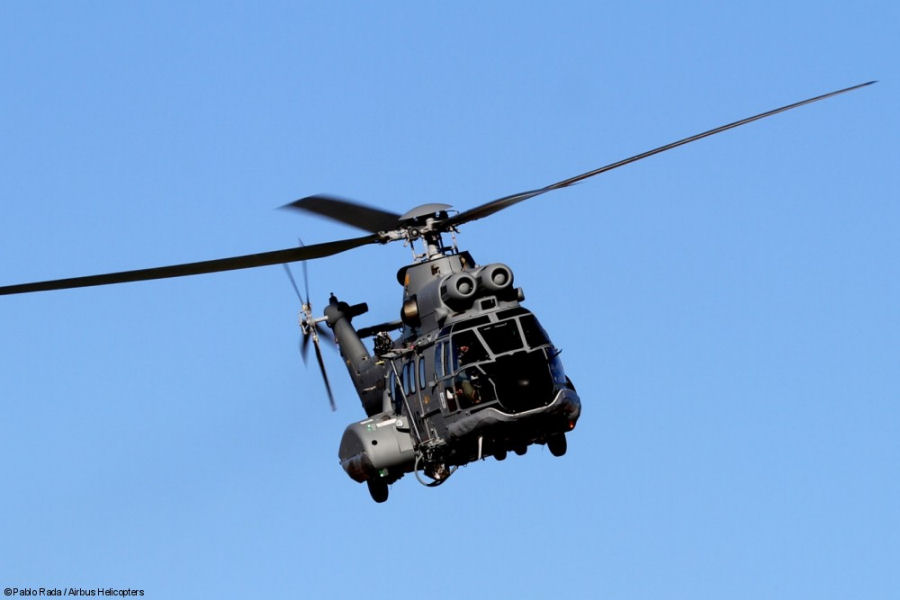 Airbus Helicopters, November 30, 2018 - Albacete, Spain - The Ministry of Defense and the Spanish Air Force today received their fourth H215 helicopter at the Airbus Helicopters facilities in Albacete.

The new helicopter will be assigned to the Air Force' 802 Squadron based in Gando (Canary Islands) and will be dedicated to search and rescue missions along with the other three H215 helicopters delivered since 2016.

The acquisition has been ordered by the Directorate General of Armament and Material of the Ministry of Defense through the NATO Support and Procurement Agency(NSPA).

Belonging to the proven Super Puma family, the new H215 is a robust and cost-effective twin-engine heavy-duty helicopter that meets the most stringent safety requirements thanks to the latest technology onboard equipment. The H215 of the Air Force has additional fuel tanks for a greater range, up to 560 km, an emergency buoyancy system, and a rescue crane among other equipment. Highlights digital multifunction screens compatible with night vision goggles and the inclusion of an advanced 4-axis autopilot system that offers great stability in adverse operational conditions.

"Customer satisfaction is very important for Airbus and it is an honor to deliver a 4th H215 to the Air Force today to carry out such demanding missions as rescue on the high seas" declared Francisco Vergé, CEO of Airbus Helicopters in Spain. "I thank the Air Force for its renewed confidence in Airbus and I reiterate our commitment to ensure the availability of helicopters up to the importance of their missions"
Location :

Gando
H215 / AS332C1e / AS332L1e in

Ejercito del Aire

Escuadron 802
Ejercito del Aire
Spanish Air Force

Airbus Helicopters España
Airbus Helicopters Spain
NATO Support and Procurement Agency