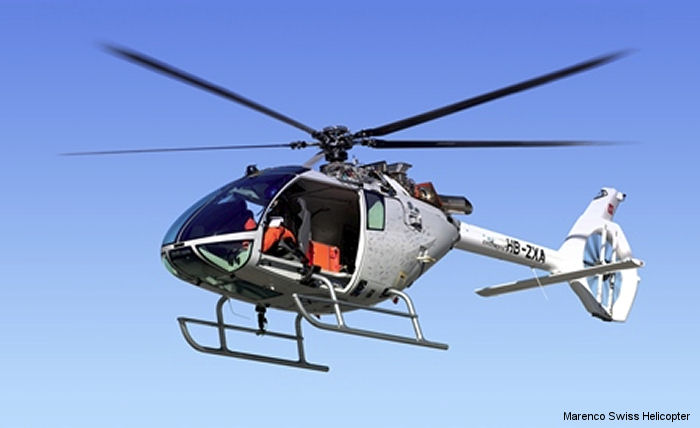 Marenco SwissHelicopter, February 29, 2016 - Louisville, KY - Marenco Swiss Helicopter is proud to announce the signing of a letter of intent for one SKYe SH09 by Horizon Helicopters of Canada on the first day of Heli-Expo 2016 in Louisville.

Horizon Helicopters specializes in environmentally sensitive work, vertical reference and mountain operations in challenging environments and unique flight conditions of the North. It prides itself on keeping its fleet maintained and upgraded to the highest standards.

Cole Hodinski, Operations Manager & Chief Pilot at Horizon Helicopters, comments "it is with great enthusiasm that we engage our company in operating what will become the best single helicopter in the world".

This confirmation of intent coming from Yukon adds a third Swiss helicopter for Canada after commitments for the first two units were signed by a renowned utility operator in 2013.

Visit Marenco Swisshelicopter in Louisville, KY on BOOTH 3006 at the 2016 HAI HELI-EXPO.

About the SKYe SH09 helicopter: With a Maximum Take-Off Weight of 2,650 kg (5,842 lbs) the SKYe SH09 helicopter offers exceptional hot and high performance, a low noise signature thanks to the newly developed dynamic assemblies and shrouded tailrotor.

The modularity of the cabin makes the most of the flat floor and the unique high ceiling concept, offering multiple seating arrangements of 1 Pilot + up to 7 passengers, all with individual crashworthy seats. The rear access to the cabin is facilitated by the large clamshell doors; addressing the passenger transport and emergency evacuation roles of the helicopter.

With a fast cruise speed of 260 km/h (140 knots) it will also offer very long range - in excess of 800 km (430 nautical miles) with standard fuel tanks. SKYe SH09 is of particular interest to operators who wish to avail of a remarkably versatile machine with additional power, greater payload capacity, and an augmented sling load capability of 1,500 kg (3,300 lbs).

About Marenco Swiss Helicopter (MSH): The Marenco SwissHelicopter COMPANY is the result of combining the vision of our investors, the engineering expertise of Martin Stucki and a team of highly qualified helicopter specialists, pilots and aviation experts.

Marenco Swisshelicopter Ltd. was founded in 2007 for the direct purpose of developing, building and commercializing new concepts of light turbine helicopters. With this industrial visionary concept, Marenco Swisshelicopter developed a new generation of helicopter built with a design that concentrates on the key notion of competitive superiority, modularity, advanced ergonomics and with the integration of the best choice of materials.
Marenco SwissHelicopter SKYe SH09

Horizon Helicopters