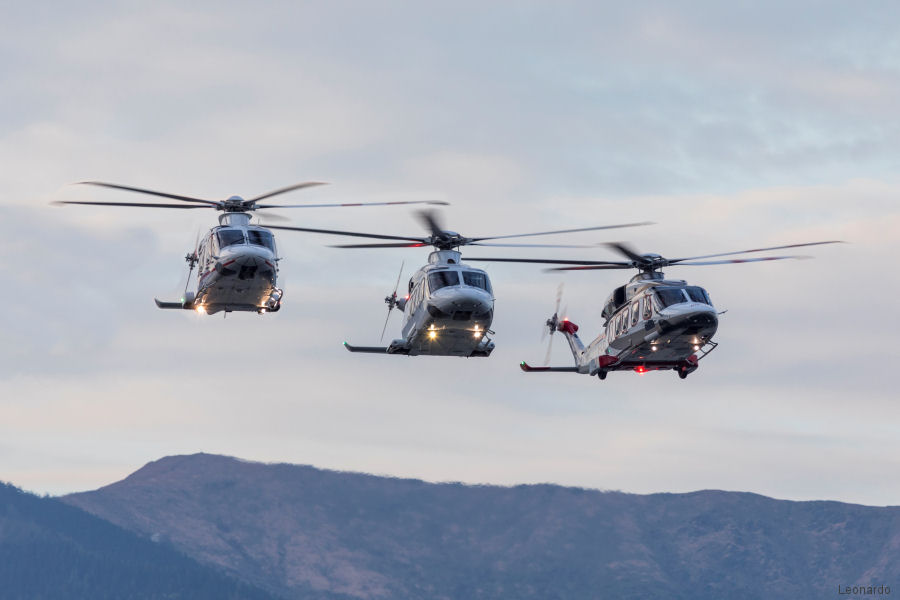 Leonardo, March 05, 2019 - Atlanta – Leonardo attends Heli-Expo 2019 in Atlanta (5-7 March) with sound world civil helicopter market leadership.

In 2018 the Company positioned itself as the first helicopter manufacturer in terms of value in the world civil market with a 40% share, a 7% increase compared to the previous year.

Total aircraft deliveries to customers worldwide for all missions were significantly higher compared to 149 units handed over in 2017.

This market leadership is also confirmed in the US, a core 'home market' to Leonardo, which generated more revenue from civil helicopter deliveries for the last two years. The helicopter fleet in North America has more than doubled in the last ten years, from over 200 to more than 450 units. The facility in Philadelphia has strongly contributed in years delivering over 550 aircraft to customers in US and worldwide, and is supporting a fleet of over 1000 units with services supplied from North to Latin America. Leonardo is also expanding the level of support and training with the launch of a new Helicopter Training Academy in Philadelphia and new regional maintenance centers, in line with the Industrial Plan which requires greater levels of service and proximity.

The US has become increasingly important as the Company pursues opportunities in the military helicopter market as well. Following the selection of the MH-139 for the US Air Force UH-1N Replacement program, based on the bestselling Leonardo AW139 and with Boeing acting as prime, Leonardo is now competing for the US Navy TH-XX training helicopter requirement with the TH-119 IFR single engine, a unique combination of best-in-class performance, cabin space, latest technology avionics and cost/effectiveness. The AW119 baseline is already extremely successful among parapublic and military customers worldwide for training, rescue, homeland security, utility.

At Heli-Expo Leonardo is providing evidence of this leading market position, displaying a range of capable helicopters and comprehensive support and training services designed to meet the most stringent market and customer demand for performance, safety, technology and cost/effectiveness. Aircraft on display include an AW119 in offshore configuration, an AW109 Trekker for emergency medical service and an AW169 in a VIP variant. New and enhanced services feature customized solutions, innovative digitalization and greater levels of communications with the operators.

Come and find out more on our helicopters, Stand No. B7024 Hall B

Leonardo, a global high-technology company, is among the top ten world players in Aerospace, Defence and Security and Italy's main industrial company. Organized into five business divisions, Leonardo has a significant industrial presence in Italy, the United Kingdom, Poland and the USA, where it also operates through subsidiaries such as Leonardo DRS (defense electronics), and joint ventures and partnerships: ATR, MBDA, Telespazio, Thales Alenia Space and Avio.

Leonardo competes in the most important international markets by leveraging its areas of technological and product leadership (Helicopters, Aircraft, Aerostructures, Electronics, Cyber Security and Space). Listed on the Milan Stock Exchange (LDO), in 2017 Leonardo recorded consolidated restated revenues of €11.7 billion and invested €1.5 billion in Research and Development. The Group has been part of the Dow Jones Sustainability Index since 2010.

AgustaWestland Philadelphia
AgustaWestland USA
Leonardo Results at Heli-Expo 2019