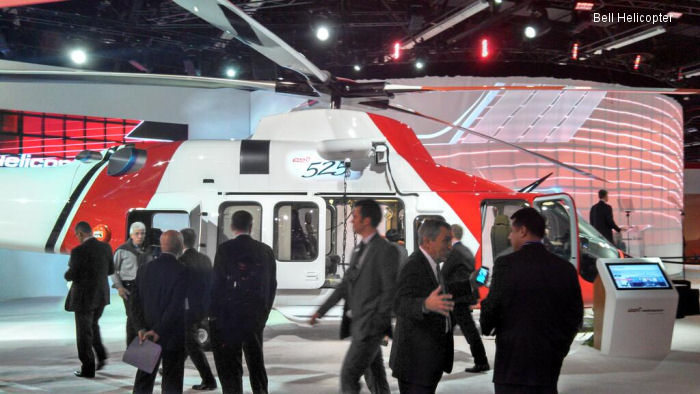 Bell Helicopter, February 25, 2014 - Anaheim, CA – Bell Helicopter, a Textron Inc. company, continued to set itself apart from the competition at HELI-EXPO 2014 with the latest news of the Bell 525 Relentless, the world's first fly-by-wire helicopter.

As hundreds of attendees gathered at booth 4536 at HELI-EXPO, Bell Helicopter shared recent updates alongside a full-size mockup of the Bell 525 Relentless newly configured for search and rescue (SAR) missions.

"With the Bell 525 Relentless we are delivering a generational shift in pilot situational awareness, maintainability and safety," said Bell Helicopter President and CEO John L. Garrison. "This new generation is rapidly becoming a reality as we are hitting a number of milestones - including extensive testing in our systems integration lab, the production of thousands of parts and the construction of our 525 assembly facility in Amarillo. Right now, we are on course for the first flight of the Bell 525 late this year with two aircraft already in assembly."

Highly configurable to a number of mission needs, the Bell 525 Relentless offers game-changing capabilities to customers. The 525 features best-in-class payload range capability to meet customers' future requirements and best-in-class cabin and cargo volumes coupled with flexible cabin layout options. With wrap-around windscreens for a wide field of view during takeoff, cruise and landing, the Bell 525 Relentless also offers best-in-class crew visibility.

Garrison also spoke to the updated performance specifications based on program progress and testing. Testing is underway in Bell Helicopter's fully integrated System Integration Lab (SIL), allowing for virtual flight testing of the Bell 525. The result is a mature aircraft able to work through control systems issues and related items well in advance of its first flight later this year. The aircraft is capable of carrying more than 16 passengers for 250 nautical miles and more than 8 passengers for 500 nautical miles.

"At Bell Helicopter, we believe in putting the customer at the center of everything we do, and that includes involving the customers from the outset," Garrison said. "Every step of the way, we have developed the 525 Relentless with direct involvement from a panel of customer advisors from around the world, committed to providing expertise in all facets and segments of the helicopter industry. This continued high level of integration with our customers from development through production gives us a high degree of confidence the Relentless will deliver industry-leading value across a range of missions and segments."

The Bell 525 is the world's first fly-by-wire commercial helicopter, able to operate in austere environments safely and reliably with decreased pilot workload. Developed with continuous customer input, the Bell 525 offers unparalleled situational awareness and enhanced safety and reliability with the first touch screen glass flight deck designed for helicopters. The Bell 525 also features the reliable performance enabled by world-class GE engines, a Garmin G5000H fully-integrated glass flight deck, and Bell's (Lift Assist Tail Boom Design) LATD technology for improved hover performance. The Relentless can comfortably accommodate 16 passengers and two crew members. It has a cruise speed of 155 knots and a range of 500 nautical miles. With a highly reconfigurable main cabin, the Bell 525 Relentless is adaptable to several mission needs, including corporate/VIP, firefighting, energy, helicopter air ambulance, and search and rescue.

HELI-EXPO 2014, held in the Anaheim Convention Center, will host 20,000 industry professionals, more than 700 competitive exhibitors, over 60 helicopters on display and more than 50 educational opportunities, including education courses, seminars, workshops and forums.

About Bell Helicopter: Bell Helicopter, a wholly owned subsidiary of Textron Inc., is an industry-leading producer of commercial and military, manned and unmanned vertical-lift aircraft and the pioneer of the revolutionary tiltrotor aircraft. Globally recognized for world-class customer service, innovation and superior quality, Bell's global workforce serves customers flying Bell aircraft in more than 120 countries.
525 Relentless in

Bell Helicopter