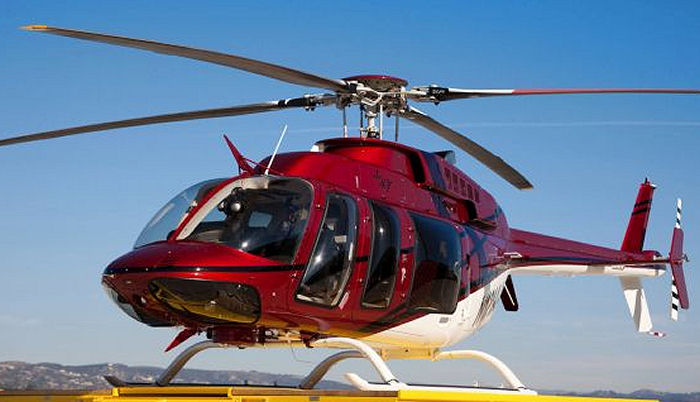 Bell Helicopter, March 17, 2016 - Fort Worth, Texas - Bell Helicopter, a Textron Inc. company, announced today it secured commitments from two customers for a total of three Bell 407GXPs in corporate/VIP configuration while at the Helicopter Association International Heli-Expo 2016 in Louisville, Kentucky.

Among the signings, Bell Helicopter signed with a private customer based in Newfoundland, Canada, for a Bell 407GXP that will be used for personal and corporate transport. While there are more than 100 Bell 407 platforms operating in Canada alone, this is the second Bell 407GXP to be signed for by an Eastern Canadian-based operator.

"The Bell 407GXP is a truly versatile aircraft that will provide unprecedented speed, reliability and safety when operating throughout Canada, and we look forward to taking delivery in the coming months," said the new owner.

Also at the show, Bell Helicopter signed with Gotham Air Private Charters for two additional Bell 407GXPs. Gotham Air is a New York based helicopter Charter Company that offers fast, safe and comfortable transportation 24 hours a day / 7 days a week. The company already operates a Bell 427 and a fleet of Bell 407's.

"We are pleased to see the continued interest in our modern commercial product line from our corporate and VIP customers," said Anthony Moreland. "The proven capabilities of the Bell 407GXP will continue to attract operators in this market segment, and we are delighted to support all of these customers and their operations."

The Bell 407GXP is another example of Bell Helicopter's continued investment in its current products to enhance customer value and increase mission capability. The Bell 407GXP is an upgrade to Bell Helicopter's best-selling platform, the Bell 407, with added value through industry leading performance, payload capability and operating economics.

About Bell Helicopter: Bell Helicopter, a wholly owned subsidiary of Textron Inc. (NYSE: TXT), is an industry-leading producer of commercial and military, manned and unmanned vertical-lift aircraft and the pioneer of the revolutionary tiltrotor aircraft. Globally recognized for world-class customer service, innovation and superior quality, Bell's global workforce serves customers flying Bell aircraft in more than 120 countries.
Bell 407GXP