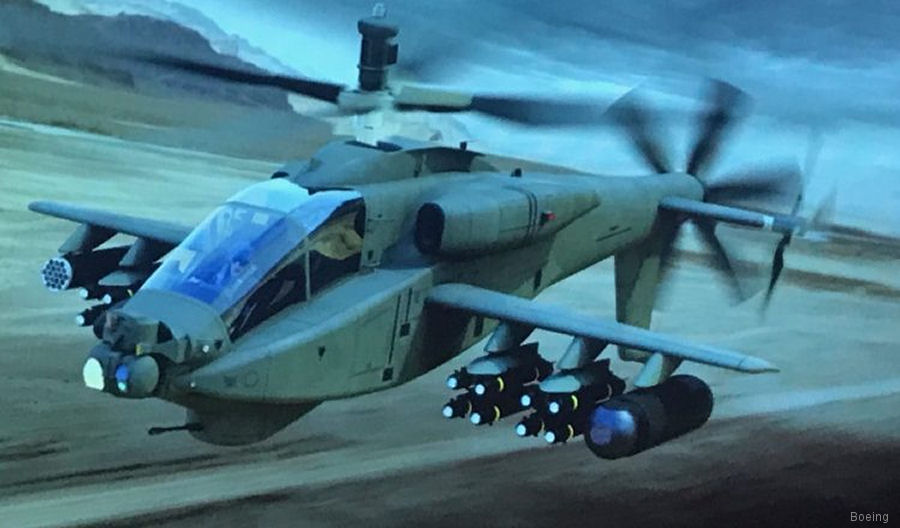 Helis, May 19, 2019
- At the Vertical Flight Society's 75th Annual Forum & Technology Display in Philadelphia, Boeing showed its new high-speed version of the AH-64 Apache attack helicopter.
Known as the
AH-64E Block 2 Compound
, a 30% scale mock-up is currently being tested at Boeing's wind tunnel in Philadelphia, Pennsylvania.
The new Apache has large fixed-wing, rearward-pointing exhaust, a downward-pointing vertical fin, and a pusher propeller in the rear which Boeing says would provide 50% more speed and range, twice the lifespan, and 24% better fuel efficiency for a 20% increase in price.
The program was first announced last October at the Vertical Flight Society's Helicopter Military Operations Technology (HELMOT) conference in Hampton Roads, Virginia.
Randy Bregger, Boeing Advanced Apache programme manager, said that the company is hoping the US Army will buy it and bridge an expected production gap between the AH-64E production ending around 2032 and when the
Future Vertical Lift programs
reaches initial operational capability (IOC) around 2045.
Graham Warwick posted tweet with photos of a scale model unveiled by Boeing.
@Boeing goes public with compound AH-64 Apache concept at ⁦@VTOLsociety⁩ #forum75 showing model just out of the wind tunnel. Streamlined fuselage and engine nacelles, retractable gear, longer wings, tail-mounted propulsor. Tail rotor retained pic.twitter.com/l8q0OqzRvQ

— Graham Warwick (@TheWoracle) May 14, 2019

FLRAA >
Boeing High-Speed Apache
Boeing AH-64E Apache