Danish Retires Lynx. MH-60R First Deployment


Denmark retires the Westland Lynx in use since 1980 with a last flight at Karup and starts first deployment of MH-60R Seahawk aboard a Thetis class frigate to the Faroe Islands and Greenland

Danish Ministry of Defence, December 14, 2017 - By Steffen Fog, VFK - At a ceremony aboard Royal Danish Navy frigate Hvidbjørnen (F360), the MH-60R Seahawk started their first deployment.

The helicopter is now operational in the North Atlantic and from now on will participate in regular tasks around the Faroe Islands and Greenland.

"It's a great day. The Seahawk helicopter has an incredibly useful capacity. It is one of the most modern naval helicopters that exist, so I'm very pleased to receive you here aboard", said Hvidbjørnen commander, Captain Niels Markussen.

The Seahawk replaced the Lynx helicopter taking over the entire complex tasks that they performed since 1980. It is a stronger and a more robust helicopter than its predecessor and also very important has a greater range.

The Seahawk will service at the Faroe Islands and Greenland aboard the four Thetis class ships, which are fitted with hangar. In contrast, the Knud Rasmussen class have only a helicopter deck where they can land and refuel.

Another major evolution is the helicopter's much larger sensor pack.

"With their much better radar we can cover a much larger area and detect targets far further from the base ship. Our tasks in the waters around the Faroe Islands and Greenland means that it is very useful to us to have the wide picture of what is going on. This helicopter can greatly help us", said Hvidbjørnen chief of command, Commander Captain Niels Markussen.

The purchase of a total of nine Sikorsky Seahawk was decided by the Danish parliament in 2012 and the first helicopter arrived to Denmark in May 2016, while the last one will be delivered in 2018. The Lynx is now officially decommissioned and will complete a final flight in a farewell ceremony at Helicopter Wing Karup on the December 15th.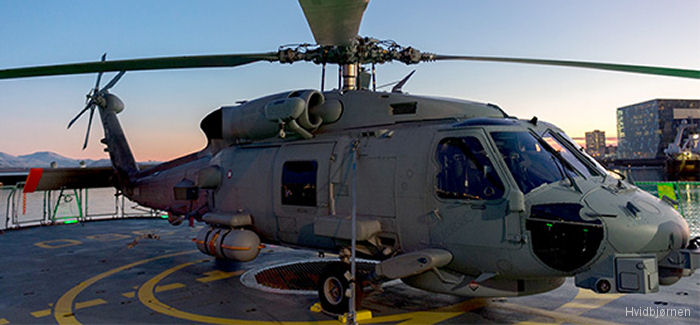 This article is listed in :
Sikorsky MH-60R Seahawk in

Flyvevåbnet
AgustaWestland Super Lynx mk90b in

Flyvevåbnet

KDM Hvidbjørnen ( F360, Thetis class )


Karup