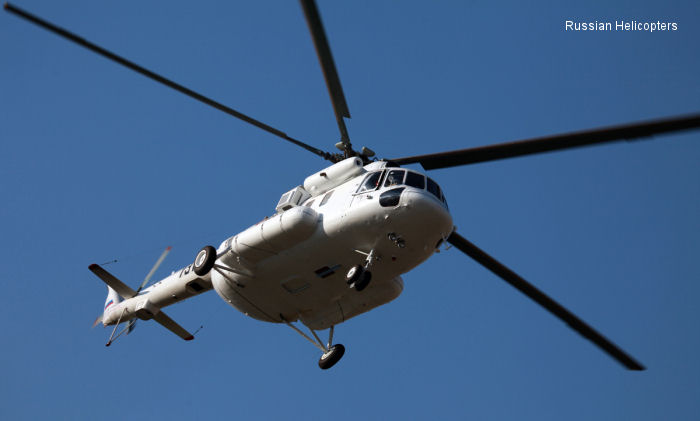 Russian Helicopters, August 30, 2013 - Moscow - Russian Helicopters, a subsidiary of Oboronprom, part of State Corporation Rostec and a leading global designer and manufacturer of helicopters, has obtained certification from the Aviation Register of the Interstate Aviation Committee for the commercial Mi-171 designed for corporate and VIP transportation. The certificate was presented to the helicopter's developer, Mil Moscow Helicopter Plant, at the MAKS 2013 International Aviation and Space Salon.

The VIP version of the MI-171 is produced at Ulan-Ude Aviation Plant, a Russian Helicopters company, and its luxury interior is made by Russian Helicopters partner company AeroTaxi-Service, which specialises in creating and servicing VIP-class passenger interiors for Russian-built helicopters. The Mi-171 has additional aviation equipment and systems that meet the latest requirements for reliability to ensure safety of operation and maintenance.

The luxury interior has additional thermal and sound isolation and is made of advanced materials including Euro-Composites cellular panels. The central section of the fuselage is divided into three compartments: front and rear airlocks and a central passenger salon that can hold up to eight passenger and one air steward. The Mi-171's luxury salon has absolutely everything to ensure passengers are comfortable even on long flights.

Compared with the standard Mi-171, the version with a luxury cabin has improved aviation equipment; for example, instead of a UHF radio the helicopter is equipped with a Prima-VHF radio set. In addition the helicopter has radio equipment for providing in-flight updates and entertainment to passengers, a Pulsar radio station and universal communication unit.

The additional certification for the Mi-171 means the VIP version of the helicopter can enter the corporate transportation market. Developed based on the world-renowned Mi-8/17 series, the Mi-171 has all of the qualities of its famous predecessors including reliability and a high level safety, ease of use and suitability for outside storage.

Mil Moscow Helicopter Plant is a Russian Helicopters company. The plant focuses on researching, designing, constructing and testing prototype helicopters. Since its establishment the plant has created 12 basic helicopter models including the Mi-8/17, Mi-35M, Mi-26, Mi-28, Mi-38 and numerous modifications. Today Mil helicopters operate in 110 countries and form the backbone of helicopter fleets in Russia, CIS and several countries in Asia, Latin America, Africa and the Middle East.

Ulan-Ude Aviation Plant is a Russian Helicopters production facility. The plant has extensive and advanced manufacturing and technical capabilities that enable it to quickly launch production of new aircraft types and also to build prototypes and mass-produce helicopters. The plant has built more than 8,000 machines in its 70-year history. Today it specializes in the production of the Mi-171 (Mi-8AMT) and Mi-171Sh helicopters.

Russian Helicopters, JSC is a subsidiary of UIC Oboronprom, which in turn is a part of State CorporationRostec. It is one of the global leaders in helicopter production and the only helicopter design and production powerhouse in Russia. Russian Helicopters is headquartered in Moscow. The company comprises five helicopter production facilities, two design bureaus, a spare parts production and repair facility, as well as an aftersale service branch responsible for maintenance and repair in Russia and all over the world. Its helicopters are popular among Russian ministries and state authorities (Ministry of Defence, Ministry of Internal Affairs, Emergency Control Ministry), operators (Gazpromavia, UTair), major Russian corporations. Over 8000 helicopters of Soviet/Russian make are operated in 110 countries worldwide. Traditionally the demand is highest in the Middle East, Africa, Asia-Pacific, Latin America, Russia, and CIS countries. Russian Helicopters was established in 2007. In 2012 its IFRS revenues increased 21% to RUB 125,7billion. Deliveries reached 290 helicopters.

Mil Mi-171
UUAP

Ulan-Ude Aviation Plant
Russian Helicopters