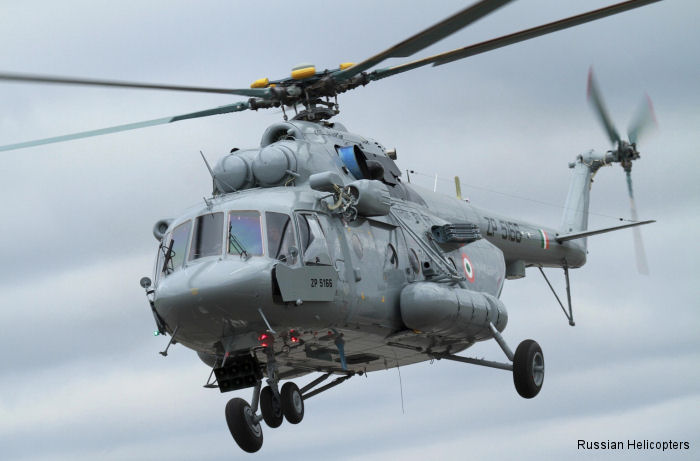 Russian Helicopters, March 28, 2016 - Moscow - Russian Helicopters, part of State Corporation Rostec, is looking to sign a long-term maintenance agreement with the Indian Ministry of Defense to provide after-sales service for Mi-17 helicopters.

"We have conducted negotiations with our Indian partners and we plan to sign a contract that will lay the foundation for collaboration between Russian Helicopters and India in an entirely new way. The company is shifting from offering separate services to providing comprehensive after-sales support. The possibility of such collaboration is now being discussed with the Air Force, Navy and border patrol troops of India," said Igor Chechikov, Russian Helicopter's deputy CEO at Defexpo India 2016. "For us, it will be the first long-term service contract with India. Set prices and delivery dates for supplying equipment needed to repair our helicopters are among the advantages of this type of contract. It will boost Russian-made helicopters' after-sales system to a new level."

According to the preliminary agreement, Russian Helicopters will provide repairs to Mi-17 type helicopters and will supply spare parts for them throughout the entire life cycle of the rotorcraft. Repairs of helicopters operated in India will be performed by enterprises belonging to Russian Helicopters holding company.

The contract life cycle is expected to be 3 - 5 years. Its further extension, as well as an expansion of helicopter models covered by the after-sales support system, are also being considered.

Russian Helicopters, (part of State Corporation Rostec), is one of the global leaders in helicopter production and the only helicopter design and production powerhouse in Russia. Russian Helicopters was founded in 2007 and is headquartered in Moscow. The company comprises five helicopter production facilities, two design bureaus, a spare parts production and repair facility, as well as an aftersale service branch responsible for maintenance and repair in Russia and all over the world. Its helicopters are popular among Russian ministries and state authorities (Ministry of Defence, Ministry of Internal Affairs, Emergency Control Ministry), operators (Gazpromavia, UTair), major Russian corporations. In 2014 its IFRS revenues increased 22,8% to RUB 169,8 billion. Deliveries reached 271 helicopters.
Mi-8/17 Hip (3rd Gen) in

Russian Helicopters
Mi-8/17 Hip (2nd Gen) in

Bharatiya Vayu Sena
Mi-8/17 Service Center in Azerbaijan