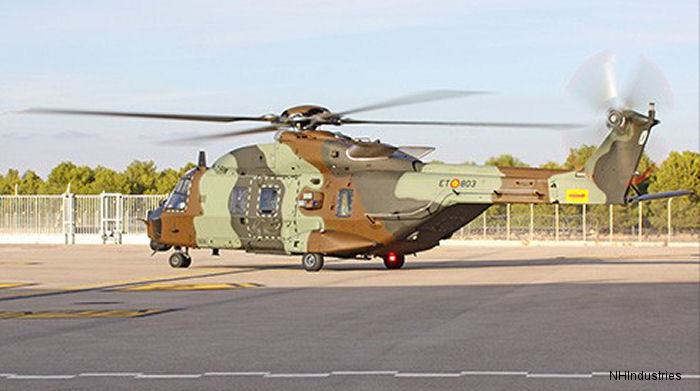 NHIndustries, December 18, 2014 - NHI delivered today to the Spanish Armed Forces the first NH90 Tactical Transport Helicopter built in Spain.

This delivery took place today in Albacette, in the Airbus Helicopters Spain facility.

"This delivery is the proof that the NH90 is not only the best helicopter in its class to modernize the Spanish armed forces, but it is as well a true industrial partnership creating skilled jobs in Spain" declared Xavier Poupardin Delegated Managing Director of NHI.

"The Spanish NH90 program is the result of an excellent cooperation between Industry and the Spanish Ministry of Defense, the Spanish Ministry of Industry with the support of the Directorate General of Armament and Equipment (DGAM)" added Xavier Poupardin.

The NH90 will be the workhorse of the Spanish armed forces for the next decades, replacing several types of previous generation helicopters. Its main missions will be tactical troop transport, Search and Rescue, personnel recovery and Medical Evacuation. NHI and Airbus Helicopters España will supply a total of 22 NH90 helicopters to the Spanish Armed Forces under a delivery schedule that continues through to 2019.

The NH90 is the optimal choice for modern operations thanks to its large full composite airframe, its excellent power to weight ratio; and its wide range of rôle equipment. It features a redundant Fly-by-Wire flight control system for reduced Pilot's workload and enhanced flight characteristics.

The NH90 is proposed in two main variants, one dedicated to naval operations, the NH90NFH (Nato Frigate Helicopter) and a Tactical Transport Variant for land based operations. As of today, 230 helicopters have been delivered in Naval and Tactical transport variants since the beginning of the program and 51 since the beginning of 2014.

They are in service in Belgium, Germany, France, Italy, The Netherlands, Sweden, Finland, Norway, Greece, Oman, Australia, New Zealand and Spain.

The twin-engine, medium-size NH90 helicopter program is managed by the consortium NHIndustries, the Company owned by AgustaWestland SpA (32%), Airbus Helicopters (62.5%), and Fokker (5.5%).
NH90 TTH in

Fuerzas Aeromóviles del Ejército de Tierra