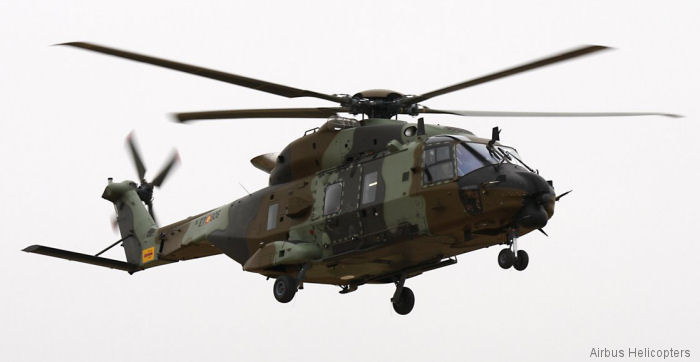 Original plans called for 104 NH90 to be assembled locally at Albacete and distributed between the 3 armed Forces. In 2005 the order was reduced to 45. In 2013 the number was set to 22 (until 2019) although the total cost was increased.
These aircraft, known as GSPA and HT-29 Caimán, used General Electric CT7 8F5 engines and avionics software developed in Spain.
First flight of a Spanish NH90 took place on December 17, 2010. The first 2 were built in France while the rest also to be manufactured in France but the Eurocopter España plant located in Albacete and inaugurated in 2007 is responsible for the assembly. First Spanish NH90 roll out in 2013.
FAMET received their first NH90 on December 2014. The second (ET-804) was delivered on December 2015.
On September 13, 2016 at Colmenar Viejo was held the official ceremony of acceptance for the first 2 aircraft. It was announced that 16 helicopters will be delivered at a rate of 3 aircraft per year.
On September 2017 performed first public display during Naval Aviation Centennial at Rota naval base.
On December 2017 performed first live fire exercise at San Gregorio.
On July 2019, the 12th NH90 (ET-813) was delivered by Airbus (NHI)
On January 14, 2020 the 16th and last batch-1 was delivered to the FAMET. Further 10 from batch-2 were announced in 2018.
GSPA: Ground SPain Army