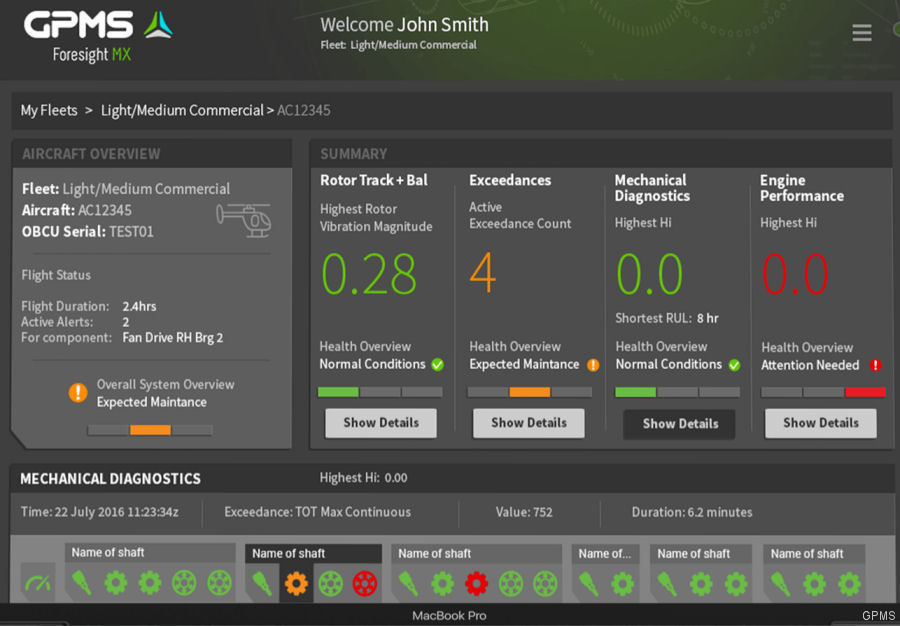 GPMS, March 09, 2022 - DALLAS, HELI-EXPO 2022 – GPMS, the leader in helicopter predictive analytics, announced today that Pathfinder Aviation has signed a contract for 20 Foresight MX systems, GPMS's enhanced Health & Usage Monitoring System (HUMS) solution.

These systems will cover Pathfinder's mixed fleet of AS350 B2, AS350 B3/H125, H135, and Bell 212 helicopters allowing remote aircraft and fleet monitoring with predictive analytics through a common user interface.

"We are incredibly excited by this deal with Pathfinder Aviation," said Jed Kalkstein, GPMS President. "Pathfinder is an innovative helicopter transport company that demonstrates its commitment to safety and operational improvements. Their adoption of Foresight MX across their full, mixed fleet showcases the additional benefits when you implement our system to go beyond HUMS."

Rogan Parker, CEO Pathfinder Aviation, and his team understand the need for this advanced, detailed level of monitoring and insight, as well as the business and safety advantages it provides. "Having an advanced HUMS like Foresight MX on our aircraft is an invaluable addition," he stated. "Foresight MX provides the insight and level of detail to know the health and status of all the aircraft in our fleet and provides us with additional confidence in our operations. It's game changing."

Pathfinder Aviation operates a mixed fleet of helicopters specifically chosen for the wide variety of missions they fly in the beautiful wilderness areas of Alaska, as well as the specialized operations and logistics solutions they provide for unique challenges worldwide. Operations in these environments are typically demanding and the utility market itself is very challenging and competitive.

Parker explains that any advantage that Pathfinder can get to increase the performance, efficiency, reputation, and safety of their fleet is a good investment. He is quick to point out that the value of Foresight MX goes beyond the financial and competitive advantages. "This is an investment in the people, our passengers and our crews, and for Pathfinder the real value, the real return is safety," he said.

Kalkstein explained that increasing safety typically drives the adoption of new technology and new systems like Foresight MX. "There is a growing trend in aviation maintenance and operations management that is shifting away from traditional static, reactive scheduling to more proactive, data-driven planning," he contends. This move helps maintenance teams address issues before they impact aircraft performance and safety, but they need data. "Foresight MX provides critical analysis and information for this type of proactive planning. It helps move unscheduled events to scheduled events, which reduces AOG costs and helps protect an operator's assets," Kalkstein noted. The team at Pathfinder knows this all too well.

"Late last year, we had a new engine that was making metal and set off a chip light. Fortunately, we caught this pre-flight and the aircraft was on base and not remote," said Parker. "Unfortunately, as any operator who has had to repair or replace an engine because of a faulty part knows, this is an expensive endeavor. I am quite certain that if we had Foresight MX at that time, we would have caught it before it became such a significant event."

GPMS has STC's for its Foresight MX system on a range of helicopter platforms including Bell 407 GX/GXP/GXi, Bell 429, Bell 412/212, the Airbus H125/AS350 B3, and the MD530. The company also has completed the system for the Mi- Series helicopters and expects further STC's for the Airbus H135, the AS350 B2, Bell 206, analog Bell 407, and the Blackhawk in 2022.

GPMS will be showcasing Foresight MX at Heli Expo 2022 in Dallas, TX. Stop by booth #6605 at the Kay Bailey Hutchinson Convention Center for a live demo and to speak with the experts and engineers from GPMS about the added values that a modern, comprehensive system like Foresight MX can deliver to take you beyond HUMS.

About GPMS International, Inc. : GPMS offers a next generation, predictive Health and Usage Monitoring System (HUMS) designed to give equipment operators the power to "Know before it matters", its flagship Foresight MX™ solution provides Machine Condition Monitoring, automated Rotor Track & Balancing and Flight Data Monitoring in one powerful system.

Fully predictive, Foresight MX offers insights needed to optimize maintenance, safety and operations. GPMS has re-engineered the HUMS category to put its advantages within reach of every operator, making all platforms smarter and more connected. To learn why today's fleets depend on Foresight, visit https://www.gpms-vt.com.

GPMS
State of Vermont

Pathfinder Aviation
State of Alaska