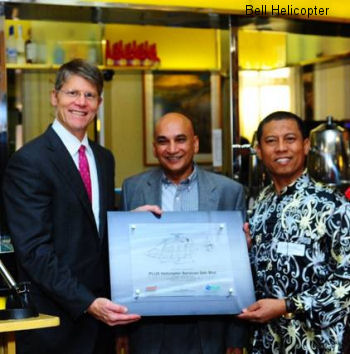 Bell Helicopter, February 11, 2014 - Bell Helicopter, a Textron Inc. company, recognized PLUS Helicopter Services Sdn Bhd during the Singapore Airshow Customer Reception on February 10, for its dedication to saving lives amidst challenging conditions.

In May 2013, PLUS Heli deployed a Bell 429 to rescue severely burned crew members injured when a container ship's boiler exploded 140 nautical miles northwest of Kuantan. Two months later, PLUS flew a second successful mission when a tanker's crew member suffered a stroke 160 nautical miles northwest of Penang Island, again leveraging the exceptional performance of the Bell 429.

"Their efforts and commitment to go beyond their call, multiple times, is worthy of recognition," said C.M. Hwang, Bell Helicopter's regional sales director in Asia Pacific. "PLUS Heli leveraged the versatility, speed and range of the Bell 429 to safely and reliably perform these two challenging missions, saving the lives of several individuals. We are honored to present them with this very well deserved award."

PLUS Helicopter Services Sdn Bhd (PLUS Heli), located in Selangor, Malaysia, took delivery of their first Bell helicopter in 2012 – a Bell 429. Primarily used as corporate transport and highway monitoring by PLUS Heli, the 429 is a versatile multi-mission aircraft. As the new standard in the light twin-engine helicopter air ambulance segment, the Bell 429 features class-leading speed for quick response times and a state-of-the-art flight deck for maximized situational awareness. In addition to its performance, the 429 delivers comfort and cost management unmatched by any other aircraft in its category.

The Bell 429 has a top speed of 150 knots and a range of 400 miles making it the ideal rapid response aircraft for offshore HAA situations. Capable of carrying one or two pilots, two or three paramedics as well as a patient on a stretcher, the 429 features a spacious 5.78 m³ cabin with a flat floor, wide 157 cm side doors and optional rear clam-shell doors to provide quick, easy access for patient loading and unloading. The Bell 429 is also equipped with a fully-integrated glass cockpit, advanced drive system and best-in-class WAAS navigation and IFR capability, offering air medical operators exceptional flight performance.

About Bell Helicopter: Bell Helicopter, a wholly owned subsidiary of Textron Inc., is an industry-leading producer of commercial and military, manned and unmanned vertical-lift aircraft and the pioneer of the revolutionary tiltrotor aircraft. Globally recognized for world-class customer service, innovation and superior quality, Bell's global workforce serves customers flying Bell aircraft in more than 120 countries.

PLUS Helicopter Services Sdn Bhd
PLUS Heli