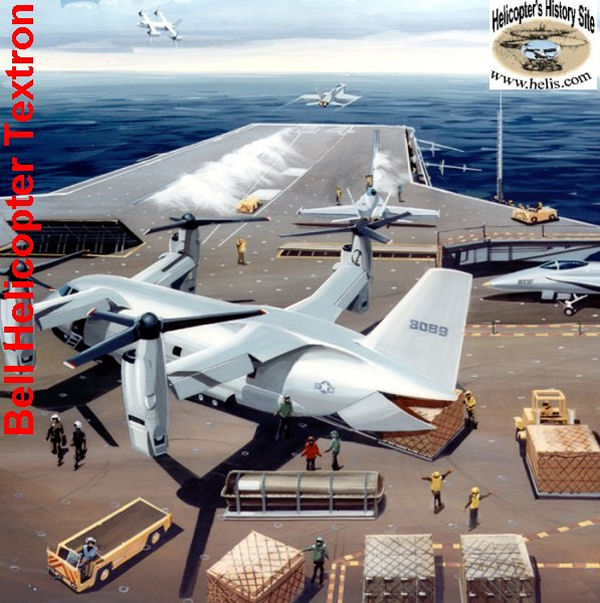 Helis, September 26, 1999 - by Michael D. Towle - WASHINGTON - Last autumn, a few weeks after terrorist bombs killed 224 people at two U.S. embassies in East Africa, Pentagon planners put a question to Bell Helicopter Textron.

Could the producers of the V-22 Osprey design a tilt-rotor aircraft big enough to evacuate an embassy's staff or ferry in American troops if U.S. officials believed an attack was imminent?

The answer is the Bell Quad Tiltrotor, an aircraft developed quietly by Bell engineers over the past year. It is designed to carry nearly 100 passengers, and could be used to carry embassy personnel out of harm's way or bring in troops to protect U.S. interests.

The Quad Tiltrotor, which has captured the attention of such top commanders as Gen. James Jones, the Marine Corps commandant, would be the size of a small cargo plane, such as Lockheed Martin's C-130 Hercules. It would have two sets of wings, each equipped with two tilting rotors, and would not need a runway for landing or takeoff.

Industry analysts estimate that the cost of a single Quad Tiltrotor could be $100 million.

Like the smaller V-22 Osprey, being built as a small transport for the Marines, the Quad Tiltrotor would be able to take off, hover or land like a helicopter. But by tilting the rotors forward, the aircraft would cruise like a turboprop plane.

The Quad Tiltrotor could carry not only people; it could also transport military gear to remote locations without airfields, enabling the Marine Corps or Army to position forces much more quickly than they can now. The aircraft would have a maximum range of 2,000 miles round trip and be able to cruise at 350 mph or more.

The Quad Tiltrotor would have six times the cargo capacity of the V-22 and be able to carry up to 40,000 pounds of cargo. That means it could haul Humvees, howitzers or even helicopters into battle.

"It just seems like the right airplane at the right time," said Dick Spivey, Bell's director of tilt-rotor business development.

Added Richard Aboulafia, an analyst with the Teal Group, a Fairfax, Va., company that follows defense programs: "The V-22 is a great over-the-horizon assault vehicle, but it really doesn't carry a whole lot. What they really need is a big, big aircraft that can carry troops and a howitzer."

A squadron of just six Quad Tiltrotors, for example, could land with 400 or more troops and a substantial amount of equipment, enabling U.S. forces to secure a facility or launch an attack.

Defense analysts and Pentagon brass say such an aircraft could be useful in the post-Cold War world, in which the main threats are expected to come from rogue nations and terrorists.

None of the military services has proposed building the Quad Tiltrotor, but Bell says that if the word comes, it could have a demonstrator aircraft flying by 2004 and a production version available by 2010.

The Pentagon now envisions for its transport needs what is called the joint transport rotorcraft, a multiservice heavy-lift helicopter. But some officials say the Quad Tiltrotor should be a viable candidate.

Bell officials say more than half of the work needed to develop and build the Quad Tiltrotor has already been done for the V-22.

"About 52 percent of a V-22 could be moved to the Quad Tiltrotor," Spivey said. He added that most of the technology used in the V-22's rotors and wings and in its cockpit electronics could be transferred to the Quad Tiltrotor.

"It would be a low-risk, low cost, quick program," Spivey said. "This is a good time to do this. We are working the Bell 609 [a small, commercial tilt-rotor] and the V-22 and we have a lot of folks here who understand the tilt-rotor very well and it would be an excellent program to charge into here. We think it makes a lot of sense and we are getting a lot of support."

Bell or a subcontractor would produce the fuselage for the aircraft.

Boeing Helicopters builds the V-22 fuselage at Ridley Township, Pa., but Spivey said Boeing would not necessarily be a partner on the Quad Tiltrotor program.

Industry analysts said that Bell could choose as its partner such aerospace contractors as Lockheed Martin, which builds the C-130 in Marietta, Ga., or Northrop Grumman, which could build the fuselage at its plant in far west Dallas.

Spivey said Bell itself could produce the fuselage at the company's facilities in Fort Worth or Arlington.

"I'm sure we could handle it," he said. "We would just have to figure out how to do it."

The Marine Corps is the most likely candidate to buy the aircraft, but much of the Marines' budget is now allocated for the purchase of V-22s and a new fighter plane. The service plans to buy 360 Ospreys, and a variant of the joint strike fighter to replace the AV-8B Harrier, a jet fighter that can take off and land vertically.

But the Marines are said to be looking at a plan to buy a small number of Quad Tiltrotors, or a similar aircraft, for limited use to demonstrate its effectiveness.

Marine Lt. Col. Curtis Haberbosch, the service's assault support helicopter coordinator at the Pentagon, said the Marines view the large tilt-rotor transport as a next step after the Osprey.

"You're talking about something that gives us quite a capability," he said. "Within the theater itself, something like this would give you heavy external lift capability, and you don't need a runway. There are a lot of things we see that this could do for us."

He acknowledged, however, that purchase of the aircraft by the Marines could be 15 years away.

How many Quad Tiltrotors the Pentagon may want some day is a matter of speculation.

Some Pentagon officials say the number could be as high as 700 if the aircraft were to win approval from Congress. Foreign sales, analysts say, could be double that number. Also, a commercial version of the plane to haul freight for such companies as Fed Ex, or passengers, for short-haul airlines, could bring several hundred more orders.

Bell