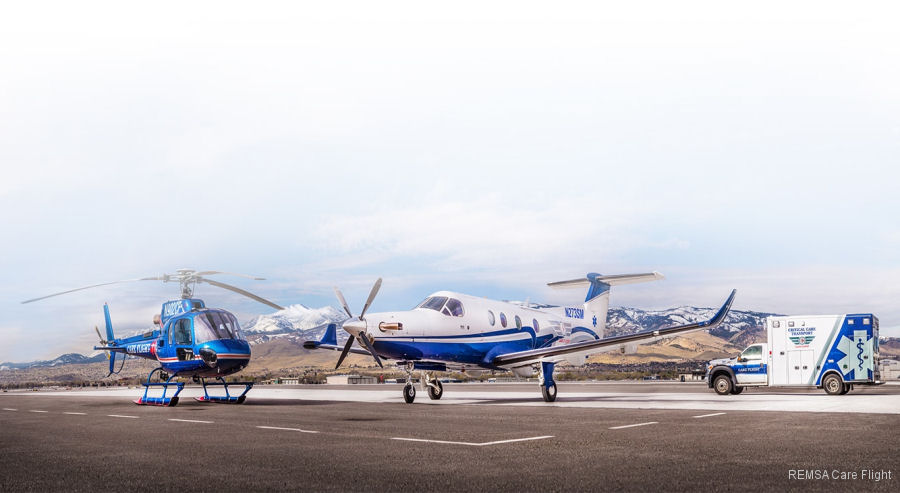 REMSA Care Flight, February 06, 2018 - The Regional Emergency Medical Services Authority (REMSA) is pleased to announce that Care Flight, the organization's critical care transport service has received re-accreditation from the Commission on Accreditation of Medical Transport Systems (CAMTS).

The accreditation includes Care Flight's rotor wing program, as well as its fixed wing and ground ambulance.

"I am incredibly proud of our Care Flight team for again, achieving CAMTS accreditation," said Ron Walter, executive director, Care Flight. "Our medical and aviation professionals are committed to the health of the communities they serve. They exceed expectations and continually provide compassionate, patient-centered care in a safe environment. Repeatedly earning this quality and safety distinction since 2002 is a testament to the professionalism and dedication of the Care Flight staff."

CAMTS is a collective of non-profit organizations dedicated to improving the quality and safety of medical transport services. The Commission offers a program of voluntary evaluation of compliance with standards demonstrating the ability to deliver service of a specific quality.

Care Flight continues to voluntarily participate in the process.

More than 36 years ago, Care Flight began as a shared program between area hospitals to provide reliable, critical care services across rural Nevada. Since then, it has grown into a comprehensive, 24/7 transport service with skilled pilots, experienced medical professionals and state-of-the-art technology.

Care Flight helicopters provide coverage to more than 54,000 square miles of northern Nevada and northeastern California and its airplane transports across the 11 state western region.

Care Flight's fleet includes four AStar 350 B3 helicopters, a Pilatus PC-12/45 single-engine airplane, and a ground critical care ambulance.

Care Flight aviation and medical professionals now respond to more than 1,500 transport calls per year. Care Flight's rotor-wing services are in partnership with Med-Trans and its fixed-wing services are in partnership with REACH (Air Medical Services).

REMSA Care Flight
State of Nevada
CAMTS