Bell Helicopter, July 21, 2016 - ALEA EXPO, Savannah, GA – Bell Helicopter, a Textron Inc. company, announced today that its Aeronautical Accessories brand has added the Crew Mobility Restraint Kit as part of its product line-up for Bell 412 and the Bell 412EP aircraft.

The new kit recently received a supplemental type certificate from the FAA.

The Crew Mobility Restraint Kit is a safety feature for law enforcement and search and rescue operators - providing fall protection for highly mobile aircrew when working near open rotorcraft doors, such as in support of hoist operations. The kit incorporates an 80-inch webbing assembly on a retractable, locking inertial reel. It additionally provides a range of operation across the full width of the rotorcraft sliding door, as well as access to the center of the cabin, without the tripping and entanglement hazard of a conventional harness strap.

"We continually look for innovative products to add to our product line that will not only add value, but will improve our customers' operational safety," said Jennifer Lunceford, manager, Sales, Aeronautical Accessories. "The Crew Mobility Restraint Kit provides customers with convenient and safe mission solutions to enhance their performance capabilities around the globe."

Bell Helicopter's Aeronautical Accessories rotorcraft parts and accessories are distributed worldwide. Serving the rotorcraft industry for more than 35 years, the company's parts and accessories are designed with specific customer input to ensure the most desired and consistently reliable outcomes are achieved. With a focus on quality, customers know that the performance of Aeronautical Accessories' products sets the standard for accomplishing their missions.

Introduced in March 2013, the Bell 412EPI improves the Bell 412EP platform with the Bell BasiX Pro™ fully integrated glass flight deck, providing critical flight information at a glance for greater situational awareness and safety. The Bell BasiX Pro™ system is specifically designed to meet the requirements of twin-engine helicopters and is optimized for IFR, Category A and JAR OPS3 compliant operations. The avionics suite also includes high resolution digital maps, electronic charts and approach plates, ADS-B transponder and optional HTAWS and XM satellite links. The new Bell 412EPI also incorporates the power of Pratt & Whitney's PT6T-9 Twin Pac® engines, providing 15 percent more horsepower than the standard Bell 412. The Bell 412EPI features the BLR Strake and FastFin® system, which modifies the tail boom to optimize airflow and improve handling, safety and lift.

About the Aeronautical Accessories Brand: Aeronautical Accessories is a Bell Helicopter brand dedicated to offering advanced helicopter parts and accessories for all rotorcraft makes and models direct and through Bell Helicopter's worldwide network. The brand currently offers more that 4,000 unique part numbers and 1200 supplemental type certificates (STCs).

Bell Helicopter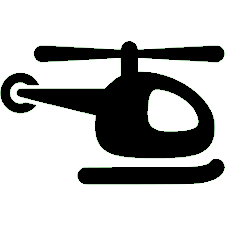 Helicopters Ground Handling