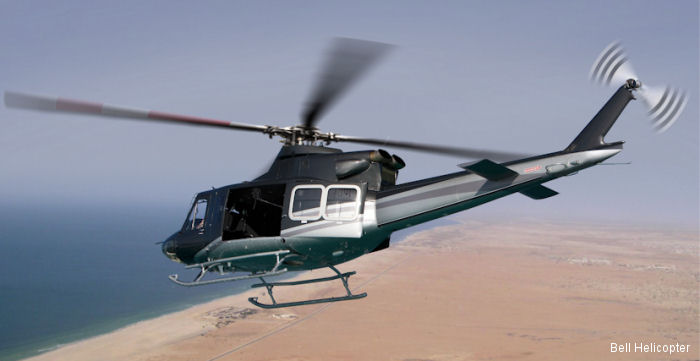 Also known as the Griffin. Similar to the Bell 212 but featuring a foldable 4-bladed rotor of composite construction. Powered by a PWC PT6T-3B-1 Twin Pac engine giving 1310HP. Includes crash-hardened landing gear, seats and fuel tanks plus features for ease of maintenance away from base. Carries up to 6 stretchers with medical personnel in CASEVAC role and up to 14 passengers seated.

Design work began in Autumn 1978 with first deliveries early in 1981. Several versions available.
412SP
(Special Performance) with more fuel and greater take-off weight,
412HP
(High Performance) with an improved transmission system, the re-engined
412EP
(Enhanced Performance) with a PT6T-3D powerplant and redundant flight systems, a 412EP maritime version known as the
Sentinel
and a 412AH Attack version with an under-nose gun turret. Over 500 individual units sold by 1998.

The 412 was also assembled in Indonesia as the IPTN NB412 and Agusta in Italy built several variants since January 1981.

By 2021, after forty years in service, the more than 1,100 Bell 412 built in 11 different variants logged over 6.5 million flight hours.
Derivatives & Versions of 412
Model
Year
History
Agusta AB412

1981
1981
412SP

1985
1985
412HP

1991
1991
High performance version with P&WC PT6T-3BG or PT6T-3D engines

412EP

1994
1994
The Enhanced Performance variant has a PT6T-3D powerplant and redundant flight systems. Since 2010 they also include the tail rotor enhancement ...

CH-146 Griffon

1994
1994
100 Bell 412CF built in Canada for the Armed Forces in 2 configurations: Combat Support Squadron (CSS) for SAR (painted yellow) and and the Util ...

UH-1Y Venom

2001
2001
The Bell 450 was part of the Marines H-1 upgrade program to remanufacture the current fleet of UH-1N utility helicopters to an advanced configur ...

412LUH

2005
2005
Bell entry for the US Army LUH Light Utility Helicopter competition. It lost against the Eurocopter EC145 which became the UH-72A Lakota. For ...

412EPi

2013
2013
First introduced in March 2013, improves the Bell 412EP helicopter with the Bell BasiX ProTM fully integrated glass flight deck. On July 201 ...

412EPX

2017
2017
Based on the Bell 412EPI, the 412EPX was developed for Japan's UH-X competition. It has a more robust main rotor gearbox dry run capability, ...