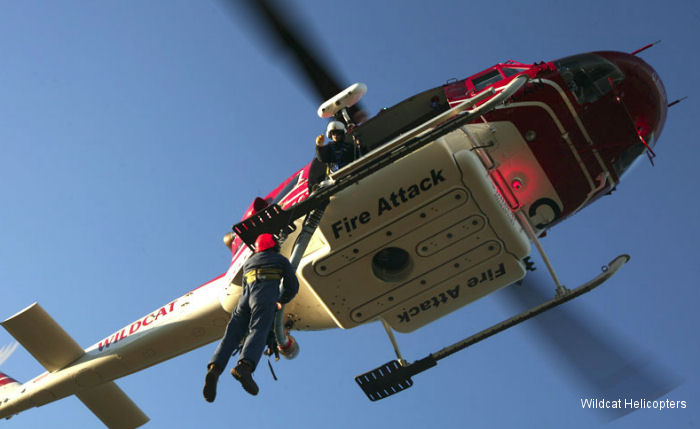 The Bell 212 Twin Two-Twelve is a two-bladed, twin-engined, medium helicopter developed from the Bell 205 ( Huey ) powered by a, then revolutionary, Pratt & Whitney Canada Twin-Pac engine made up of two coupled PT6 power turbines driving a common gearbox.

Originally manufactured in Fort Worth, Texas, production was moved to Mirabel, Quebec, Canada in 1988. It has been also built under license in Italy by Agusta as the AB.212

The military version is known as UH-1N ( CH-135 in Canada ) and Agusta also developed a specialized shipborne variant.

Further development of the model 212 led to the Bell 412, the major difference being the composite four-blade main rotor.
Derivatives & Versions of 212
Model
Year
History
CH-135 Twin Huey

1969
1969
UH-1N variant for the Canadian Armed Forces

UH-1N

1969
1969
Military version for the United States Marines Corps and Air Force

HH-1N

1970
1970
Designation applied to 50 UH-1N reroled to search and rescue duties. Used by both Navy and Marines

Agusta AB212

1971
1971
Bell 212 built under license in Italy by Agusta in both civilian and military variants. Agusta also designed and produced the navalized varian ...

VH-1N

1971
1971
VIP military variant

412

1979
1979
Also known as the Griffin. Similar to the Bell 212 but featuring a foldable 4-bladed rotor of composite construction. Powered by a PWC PT6T-3B-1 ...
Design work began in Autumn 1978 with first deliveries early in 1981. Several versions available. 412SP (Special Performance) with more fuel and ...
The 412 was also assembled in Indonesia as the IPTN NB412 and Agusta in Italy built several variants since January 1981. By 2021, after forty ...

Eagle Copters 212 Eagle Single

2007
2007
Conversion of a twin engine Bell 212 into a single-engine helicopter with a Honeywell T5317BCV / Lycoming T53-17 A or B turboshaft