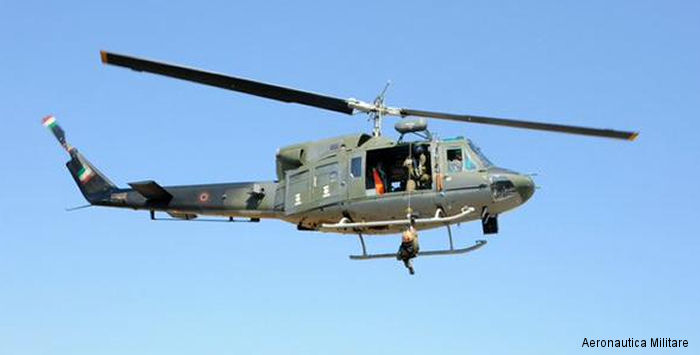 Bell 212 built under license in Italy by Agusta in both civilian and military variants.

Agusta also designed and produced the navalized variant AB212ASW to be used from frigates.
Model
Year
History
AB212 EW
ECM/electronic warfare export variant

AB212 GE
Guerra Elettronica. Italian navy ECM/electronic warfare variant

AB212 ICO
Incremento della Capacita Operativa. Enhanced CSAR variant used by 9th Stormo, 21st Gruppo Italian Air Force

AB212 ASW
1973
Shipborne based variant for Anti-Submarine Warfare (ASW), Anti-surface warfare (ASuW) and Search and Rescue (SAR). Equipment includes MM/APS-705 ...

AB212 NLA
1994
Nucleo Lotta Anfibia. Airframes re-roled to the amphibious support stripped of asw equipment and fitted with defensive ECM and weapons systems
Set up on May 2, 1994, the Helicopter Assault Group, formerly denominated Amphibious Warfare Team (NLA - Nucleo Lotta Anfibia), provides the Ital ...