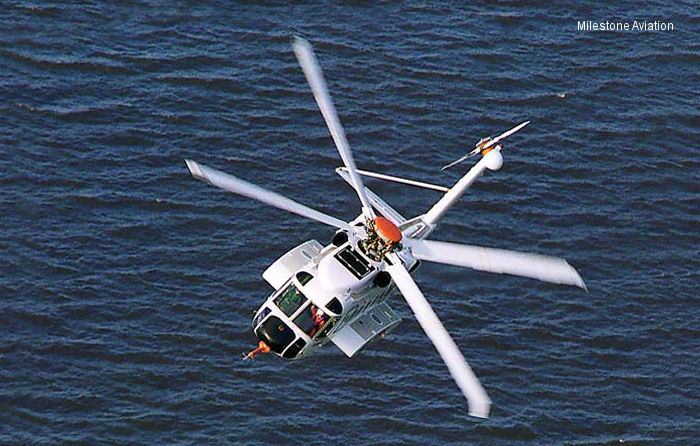 Sikorsky, February 25, 2014 - ANAHEIM, California - Milestone Aviation Group, the global leader in helicopter leasing, and Sikorsky Aircraft Corporation announced today at Helicopter Association International's Heli-Expo that Milestone has increased its S-92 order book by eight units.

Sikorsky is a subsidiary of United Technologies Corp.

Milestone is already one of the world's largest S-92 owners and with today's announcement, it has increased its firm and option S-92 orders to 37 aircraft valued at more than US$ 1.2 billion. The forward orders are scheduled to deliver over the next five years with 15 scheduled for completed delivery in 2014 and 2015; more than half of which are already on lease or under letter of intent.

"The S-92 is a great helicopter and vital component of the offshore oil-and-gas, and the search-and-rescue markets," said Milestone's Chairman and CEO Richard Santulli. "We are pleased to expand our partnership with Sikorsky with these eight additional units. This will allow us to serve helicopter operators around the world with near-term delivery positions of this highly sought-after aircraft."

"Milestone has quickly become one of our largest and fastest-growing customers," said Carey Bond, president, Sikorsky's Commercial Systems & Services. "This innovative company has provided a valuable service to the helicopter community in the form of 100% financing and near-term delivery positions of the world's most in-demand, heavy-twin helicopter, the S-92. We are excited to grow our partnership with this order for eight more."

Milestone already has 73 Sikorsky aircraft in its fleet today, including 45 S-92's and 28 S-76 family aircraft including four of the brand new S-76D aircraft. These aircraft are on lease to operators in Asia, Australia, Europe, North America and South America serving the offshore oil and gas, search and rescue and emergency medical service industries. The new aircraft will enter into service globally in support of Milestone's lessees serving offshore oil and gas transportation services, helicopter-based emergency medical service (HEMS), search and rescue (SAR), para-public and other utility missions.

Since entering service in September 2004, the S-92 has become one of the world's leading helicopters. Worldwide, more than 200 of the aircraft have logged more than 600,000 flight hours to date. Offshore oil operators fly the aircraft for an average of 90–110 hours per month in often challenging conditions. In addition to serving the offshore oil segment, the S-92 helicopter performs Head of State missions, search and rescue (SAR) operations as well as a variety of transportation missions for utility and airline passengers.

The aircraft incorporates numerous safety features, including a flaw-tolerant design. It was certified to harmonized Federal Aviation Administration, European Aviation Safety Agency and Transport Canada Part 29 requirements, as amended through Amendment 29-47, and remains the only aircraft in its class that is certified to this rigorous airworthiness standard without exception or waiver.

About Milestone Aviation Group: Milestone Aviation Group is the global leader in helicopter leasing. Since launching in August 2010, and as of December 31, 2013, Milestone has acquired 143 aircraft valued at over US$ 2.2 billion and closed leases with 26 operators in over 20 countries on six continents. The company has a forward order book of over 130 firm and option aircraft valued at over US$ 3.0 billion. These near-term delivery positions of in-demand helicopters are made available for lease globally. Milestone partners with helicopter operators worldwide and supports them through 100 per cent operating lease financing. The company provides financing for helicopters, serving a variety of industries, including offshore oil and gas, search and rescue, emergency medical services, police surveillance, mining and other utility missions.
S-92 in

Milestone Aviation