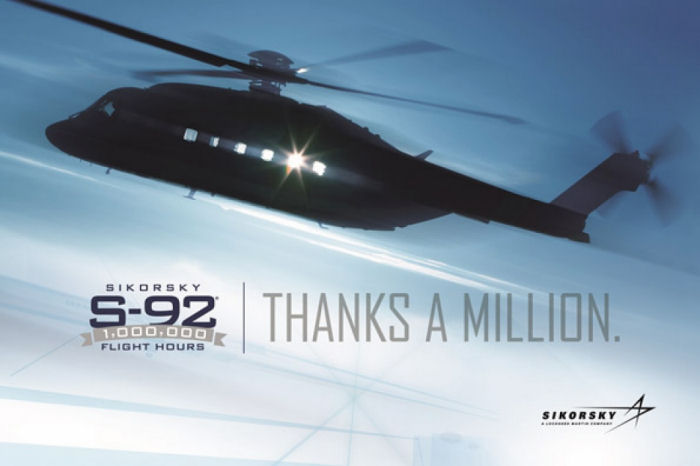 Lockheed Martin, June 15, 2016 - STRATFORD, Connecticut – June 15, 2016 The global fleet of Sikorsky S-92 helicopters recently surpassed one million flight hours, in an impressively short time of less than 12 years.

Sikorsky is a Lockheed Martin company (NYSE: LMT).

"We are incredibly thankful to our customers, suppliers and employees for reaching this milestone, and we are tremendously proud of the S-92 helicopter's industry-leading safety record," said Sikorsky President Dan Schultz. "Sikorsky is committed to providing world-class customer support and technological advancements to our customers who select the S-92 helicopter for their most demanding missions in some of the world's toughest conditions."

With more than one million fleet flight hours of service, and an accident rate less than 1/10th the U.S. Civil Multi-Turbine engine helicopter rate, Sikorsky believes the S-92 helicopter sets the industry standard for safety and reliability. The S-92 was certified to FAA/EASA harmonized Part 29 requirements, as amended through Amendment 47. It led the way by being the first aircraft certified to this rigorous standard and by meeting or exceeding oil and gas industry requirements. The availability rate of the S-92 fleet averages more than 95% each month.

In this milestone year, the American Helicopter Society International honored the S-92 helicopter program with the Harry T. Jensen Award for its outstanding safety record. In 2002, the S-92 helicopter was honored with the prestigious Collier Trophy.

Since 2004, Sikorsky has delivered more than 275 S-92 helicopters, predominantly to operators serving the worldwide offshore oil and gas industry, and for civil search and rescue. Eleven nations fly the dual-engine, medium-lift S-92 helicopter for their head of state missions. In May 2014, Sikorsky was selected to build the next U.S. Presidential Helicopter Fleet, the world's most advanced executive transport helicopter, using the S-92 platform.

About Lockheed Martin: Headquartered in Bethesda, Maryland, Lockheed Martin is a global security and aerospace company that employs approximately 125,000 people worldwide and is principally engaged in the research, design, development, manufacture, integration and sustainment of advanced technology systems, products and services.
Sikorsky S-92
Global S-92 Fleet Surpasses Two Million Flight Hours