Rockwell Collins Top Supplier List for 2018


Rockwell Collins, a leader in aviation and high-integrity solutions for commercial and military customers, recognized supplier excellence and its Vision & Values award recipients

Rockwell Collins, March 07, 2018 - CEDAR RAPIDS, Iowa – Rockwell Collins has named Mini-Circuits of Brooklyn, New York, as its top supplier and President's Award winner for 2018.

The award was presented at the Rockwell Collins Supplier Conference on March 6.

"Mini-Circuits has been one of our key suppliers for more than 30 years," said Wayne Flory, vice president of Material & Supply for Rockwell Collins. "Their strong obsolescence management plan was a major factor in why they were selected as our President's Award recipient, as well as our Electronic Component Supplier of the Year."

Mini-Circuits is a global leader in the design, manufacture and distribution of RF and microwave components and systems for commercial, industrial, medical, space and military applications from DC to 50 GHz. Mini-Circuits' 27 product lines comprise thousands of off-the-shelf and custom models supporting more than 20,000 customers worldwide.

A model for the Rockwell Collins supply base, the President's Award winner best exhibits the five core supply chain values: quality, delivery, total cost of ownership, lead time and customer service. In addition, this award winner continuously meets and exceeds performance metrics to improve and empower excellence for the future.

In addition to the President's Award, Rockwell Collins also recognized supplier excellence in the areas of relationships, commitment and innovation, which align with Rockwell Collins' vision and corporate values. This year's Vision & Values award recipients include:

Relationships
Shennan Circuits Co., Ltd., Shenzhen, China

Commitment
Avnet, Inc., Phoenix, Arizona

Innovation
AeroAntenna Technology, Inc., Chatsworth, California

Supplier of the Year Awards were also presented to the following nine companies that made significant contributions in their respective categories:

Assemblies
EUROAVIONICS USA, Sarasota, Florida
Corporate/Employee Services
Executive Technology, Inc., Phoenix, Arizona

Development & Engineering Services
AKKA Technologies, Paris, France

Electrical Build to Print
Samtec, Inc., New Albany, Indiana

Electronic Components
Mini-Circuits, Brooklyn, New York

Facilities Support Services
TEK Products, Long Lake, Minnesota

Manufacturing & Product Support
APX Plastics, Inc., Arlington, Texas

Mechanical Build to Print
Moldtronics, Inc., Downers Grove, Illinois

Value Add Suppliers
Apollo Aerospace Components, Moonachie, New Jersey

About Rockwell Collins: Rockwell Collins (NYSE: COL) is a leader in aviation and high-integrity solutions for commercial and military customers around the world. Every day we help pilots safely and reliably navigate to the far corners of the earth; keep warfighters aware and informed in battle; deliver millions of messages for airlines and airports; and help passengers stay connected and comfortable throughout their journey. As experts in flight deck avionics, cabin electronics, cabin interiors, information management, mission communications, and simulation and training, we offer a comprehensive portfolio of products and services that can transform our customers' futures.


Pictured left to right: Wayne Flory, Molly O'Brien, John Day, Mark Roskopf (Mini-Circuits), Corey Kemp, Steve Scheinkopf (Mini-Circuits), Jay Gallagher, Cathy Kiefer, Amanda Holtey. Not pictured from Mini-Circuits: Harvey Kaylie, Ted Heil.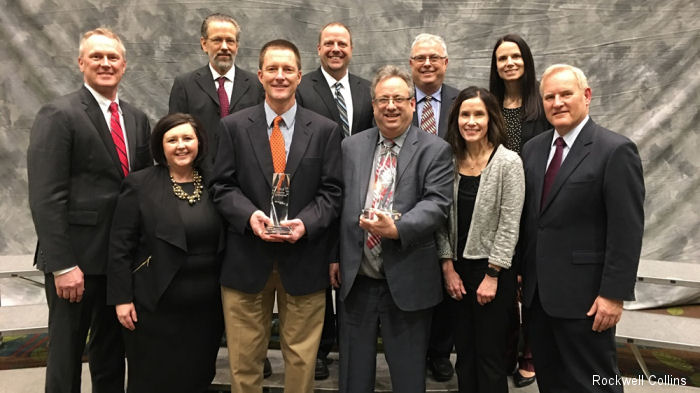 This article is listed in :


Rockwell Collins