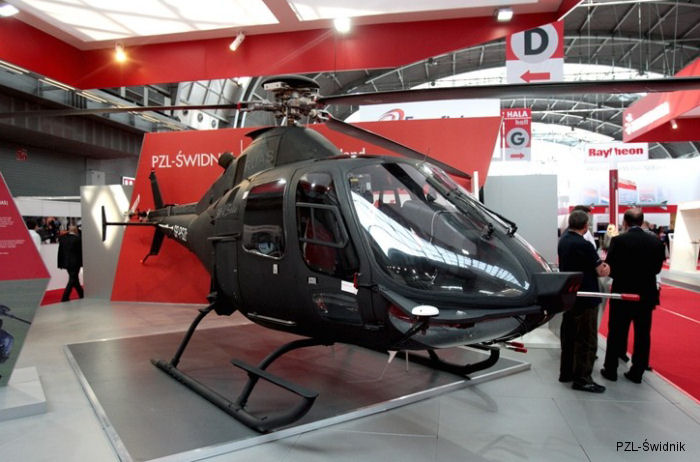 PZL-Swidnik, September 01, 2014 - PZL-Świdnik, an AgustaWestland company, is showcasing the SW-4 Solo Rotorcraft Unmanned Air System/Optionally Piloted Helicopter (RUAS/OPH) at MSPO 2014 in Kielce, demonstrating the Company's potential in the European UAV sector, reinforcing its position as an important centre of excellence for advanced aviation technologies and confirming its continuous commitment to innovation.

The SW-4 Solo RUAS/OPH, the result of a close collaboration between PZL-Świdnik and AgustaWestland, is one of the most technologically advanced achievements of aviation technology in recent years. It is
a culmination of the technological expertise and know-how PZL-Świdnik and AgustaWestland have accumulated so far and a major part of overall product development strategy that also includes helicopters and tiltrotors.

The SW-4 Solo RUAS/OPH is at the core of major programmes in the UK and Italy aimed at assessing modern RUAS/OPH technology to develop suitable capabilities, particularly to meet future naval operational requirements.

The SW-4 Solo RUAS/OPH has recently completed a demonstration to the Italian Ministry of Defence to evaluate modern remote controlled rotorcraft technology and its potential to provide enhanced capabilities for the Italian armed forces in the future. Under the Research and Development contract, included in the National Military Research Plan, signed between AgustaWestland and the Italian Ministry of Defence (MoD) Directorate for Air Armaments, the ground station-based remote controlled capabilities of the SW-4 Solo RUAS/OPH have been successfully demonstrated. The aircraft completed the planned missions in OPH configuration with a safety pilot on board.

Additionally, the Solo will be demonstrated as part of the UK's RWUAS (Rotary Wing Unmanned Air System) Capability Concept Demonstrator (CCD) programme. The programme aims at investigating the utility of a conceptual multi-role UAV for the UK Royal Navy and is covered by a contract that was awarded to AgustaWestland by the UK Ministry of Defence.

The SW-4 Solo RUAS/OPH development phase and flight trials, undertaken both in Italy and Poland are progressing well, with over 40 flight hours logged to date. Test activities undertaken include system monitoring, 'hands off' and remote controlled manoeuvres, hovering and a range of mission profiles.

The Solo, based on the proven SW-4 light single engine helicopter, has been designed for both unmanned and piloted operations, providing users with maximum operational flexibility. The RUAS version of the SW-4 is capable of performing a number of roles, including intelligence, surveillance and reconnaissance, as well as cargo re-supply. In piloted configuration, the SW-4 can undertake a number of activities, including transportation of personnel, surveillance and intervention. It can be fitted with a comprehensive mission equipment package, including search, communications/intelligence systems and armament.
PZL SW-4 Solo