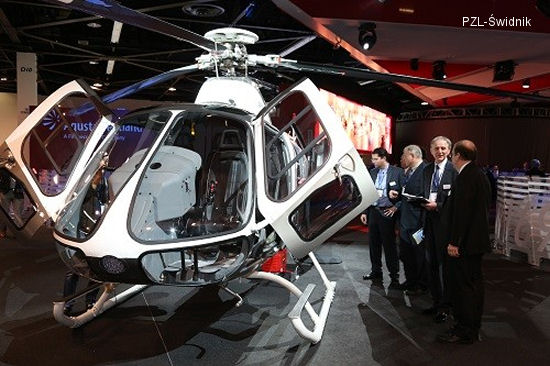 PZL-Swidnik, February 28, 2014 - Making its very first appearance in North America at Heli-Expo 2014, which was held in Anaheim, California, from 25th to 27th February, the PZL-Świdnik SW-4 gained a lot of interest from visitors at the world's largest dedicated helicopter exposition.

The SW-4 was exhibited as part of AgustaWestland's range of new generation helicopters including the AW109 Trekker, AW169, AW139 and AW189.

Andrzej Stachyra, Customer Support Manager, PZL-Świdnik, said "The SW-4 attracted immense interest amongst visitors who were keen to gain more information. They were most impressed by the aircraft's spacious cabin which can accommodate five adult passengers in comfort and the fact the helicopter is backed by AgustaWestland and powered by a Rolls-Royce 250 engine."

He added "We received over 100 good sales leads to follow up on and I am confident that the aircraft can find a good market in the USA given the aircraft's impressive class leading payload, high performance and competitive pricing."
Already certified by the European Aviation Safety Agency (EASA), the SW-4 can easily be certified in the United States and Canada following the signing of contracts with launch customers.

The SW-4 light single engine multi-purpose helicopter is designed to carry up to 5 people, including pilot(s), has low operating costs and is easy to fly which make it an excellent entry point to the light turbine helicopter segment.

The cabin can be easily converted between cargo and passenger configurations, has a flat floor with access via two hinged cockpit doors and two sliding cabin doors. A large capacity baggage bay is located behind the cabin with easy access from the port side.
The SW-4's fuselage and the structural components have been designed with state-of-the-art materials making extensive use of composites.

The SW-4 can be fitted with a wide range of optional equipment including removable co-pilot controls, external cargo sling, wire strike protection, FLIR / TV system, searchlight and emergency flotation gear system.

Examples of the SW-4's class leading capabilities include an endurance of 5 hours 30 minutes or a range of 459 nm (850 km). With a pilot onboard the SW-4 has a useful payload of nearly 600 kg and a maximum take-off weight of 1800 kg.

PZL-Świdnik, an AgustaWestland company, is Poland's leading helicopter manufacturer and is unique in having the capabilities to design, develop and manufacture helicopters. In addition to the SW-4 PZL-Świdnik also manufactures the W-3 Sokół helicopter that is widely used for utility missions such as fire fighting and external load lifting.
PZL SW-4