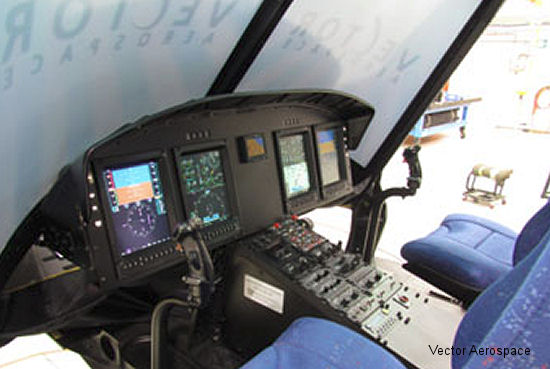 Vector Aerospace, February 18, 2014 - Richmond, BC – Vector Aerospace a global independent provider of aviation maintenance, repair and overhaul (MRO) services, is pleased to announce that Vector Aerospace Helicopter Services – North America ("HS-NA"), a subsidiary of Vector Aerospace and one of the world's leading providers of helicopter maintenance, repair and overhaul services will have a custom-modified integrated cockpit on display at Heli-Expo, Booth #5906.

"Certified by Vector Aerospace, the integrated cockpit display reduces pilot workload and provides improved features including maps, weather radar, maintenance page, and warning annunciations," states Chris McDowell, Vice President Sales and Marketing. "This modification is a great example of how Vector continues to generate customized solutions for its customers."

The cockpit consists of two Sagem 10" MFD (EI indication) and two Sagem 10" PFD's for right or left hand seat operations, and is just one example of Vector's full UH-1H upgrade capabilities.

HS-NA's comprehensive helicopter service portfolio includes: dynamic components, full-service avionics capability; up to and including glass cockpit engineering, development and integration, complete aircraft rewires, as well as airframes and major inspections support for a variety of Airbus, Sikorsky, Boeing and Bell helicopter models; Rolls-Royce M250; Rolls-Royce T56/501D; Pratt & Whitney Canada PT6T series engines; Turbomeca Arriel 1 and Arriel 2 and General Electric T58 / CT58 and CT-7A / T700 engines (all engine lines include complete test capability).
Bell UH-1H Iroquois

Vector Aerospace USA
Vector Aerospace Unveils UH-1H3 Upgrade